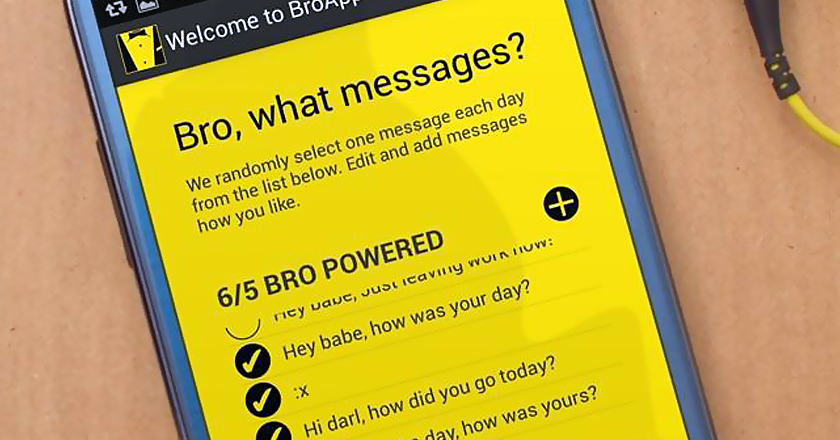 Throughout the oppressed history of 'men-kind' – Keeping a Girlfriend happy while maintaining healthy social 'Bro' life has been one of the most demanding errands.
"A SATISFIED WOMAN" is the oxymoron statement of human-kind, as it includes two contradictory terms in conjunctions, other examples of this phenomenon include; unfaithful faith, disloyal loyalty, falsely true, Zardari honesty etc.
Men have tried and men have failed, but woman have stayed unsatisfied, let alone the wish of a man to keep a 'bro life' in the midst of this.
Thus, the term 'Bermuda Triangle of efforts' come into existence, as a reference to the efforts a naïve man might make to keep a social circle of guy-friends (bros) while being in a relationship. It's impossible.
This is where BroApp comes in.
BroApp is an innovative app that makes it possible (or at least sparks a hope) for users (oppressed men), to hang out with their 'bros' while this mobile app sends sweet (and automated) messages to their beloved girlfriend.
The app predetermines the girlfriend's name and phone number, upon its download, after which it asks basic questions as Wi-Fi networks, time for the messages to be sent and the messages themselves.
Just to prove the point that this app is indeed, 'smart', it also identifies if the user is 'at her girlfriends' by detecting 'her' Wifi network, after which BroApp doesn't send any messages to your girlfriend – which would blow the whole cover.
Does this mean a man can have a love life while being able to keep friends? Is it the revolution, 'menkind' had been waiting for? Will the 'menkind' finally die less of hyper tension, strokes, sudden onset of mental disorder and heart attacks? The answers to all of these heart-filled questions are still, not surprisingly, 'No.'

But we can still soothe ourselves, can't we? No harm in trying, just like there is no harm in trying to swim while being dumped in the middle of Pacific Ocean with Godzilla sunbathing below as you block his sun, and sharks circle to watch what transpires next.
BroApp, launched Sunday, is now available on the Play Store (Android), and it seeks to allow users to preset a spree of 'lovey dovey' messages intended for their 'Grande Dame' and schedule them to be sent at specific times. Tis, a subtle effort to minimize 'the complains' while maximizing the (traditionally very small) life span of a man's life.
The app developers a group of Australian designers that goes by the name, 'Factorial Products Ltd.' describe BroApp as a 'Smart' way of 'maximizing your relationship'.
Additionally, BroApp also detects if a real-time conversation starts between the user and the girlfriend, canceling all the preset messages to avoid creating suspicion, and lastly there is the 'Girlfriend Intrusion Detector', which sends 'the nosey girlfriends' to an exciting (and fake) list of gifts the (innocent) user was planning to buy if she tries to poke her nose in the users' BroApp.
You can too, download the BroApp from the Android PlayStore for PKR 199, or 1.49 pounds.