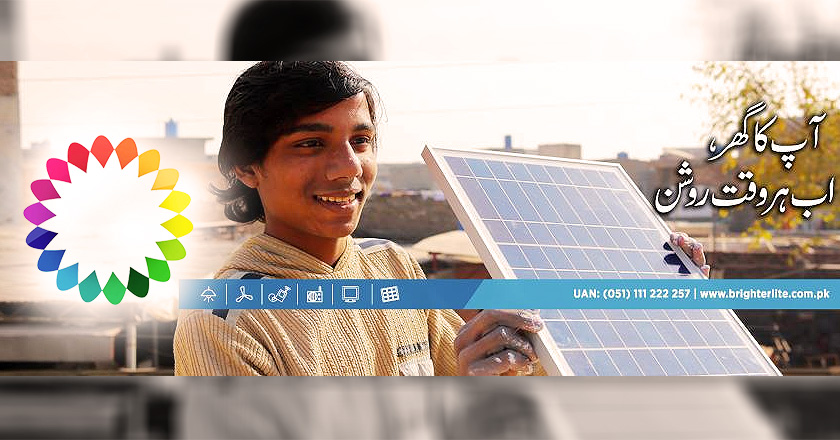 BrighterLite has collaborated with EasyPaisa to introduce a unique and innovative rental solar powered electricity generation business in Pakistan. This project to equip underpriviledged Pakistanis with electricity deserves applaud.
BrighterLite solar energy solution provides this system with a nominal registration costs and is based on a rental model. Everything related to the system is provided by BrighterLite itself including solar panels, wiring, battery, controller and appliances (fans, lights, TV).
Three packages have been designed keeping the varying needs of the consumers. The packages along with the rent and registration charges include:
L4 Package
2 lights and 1 Charger
Registration Charges: Rs. 1,490
Monthly Line Rent: Rs. 490
L9 Package
1 Ceiling Fan, 3 Lights, 2 Chargers and 1 Radio
Registration Charges: Rs. 1,990
Monthly Line Rent: Rs. 790
L16 Package
1 Ceiling Fan, 3 Lights, 2 Chargers, 1 Radio and 1 TV
Registration Charges: Rs. 2,590
Monthly Line Rent: Rs. 1,090
The registration charges include installation charges and a specific percentage of the unit's cost is kept for security which is returnable liable to conditions. Registration cost covers first 14 days usage and then the monthly rent starts.
According to the Managing Director of BrighterLite, Muhammad Omer, specialized solar appliances and systems are provided depending on the package along with the solar module and control / charging box.
The system has been designed for best performance and longer backup times. The system runs directly during the day and will run for 8 hours during the night utilizing the battery. He also stated that the system will operate normally even in hilly areas and cloudy weather.
The bill is simply paid by entering a PIN provided by any EasyPaisa outlet into the control box of the system. The system doesn't operate without the PIN.
BrighterLite has currently started to serve Jehlum and Rawalpindi district through their franchises and retailers but plan to make the system available all over Pakistan.
They are expanding fast and claim to reach at least 20 districts by the end of 2015.