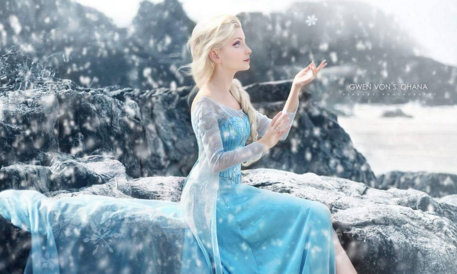 It seems the trend of "Human Barbie" from all over the globe will never die down! Yet another real life Barbie doll, Andressa Damiani has surfaced. But the shocking part is that she denies all claims of ever undergoing plastic surgery or even starving herself to achieve her perfect figure.
Having an uncanny resemblance to "Elsa" hailing from Disney's Frozen, the 23 year old Brazilian beauty boasts huge doll like eyes, long sultry legs,  a 20-inch waist and 32F bust.
"People don't believe me when I say I have never had any plastic surgery and they think I starve myself because I'm so thin. They call me a liar", says Andressa.
As a child she reveals she was shunned away and alienated in the society due to her eerie doll-like features. But as soon as she reached her 20's, she decided to embrace her looks for good.
The lady claims that she naturally flaunts her flawless features since long. All she does is play with her looks with make-up, wears hair extensions and don contact lenses to get that the ultimate Disney Doll appearance.
What's more, Damiani now runs a YouTube channel with more than 600,000 subscribers where she shares her beauty routine and make up tutorials. Now having a huge ban base, the real-life Elsa is pals with even other Human Barbie dolls.