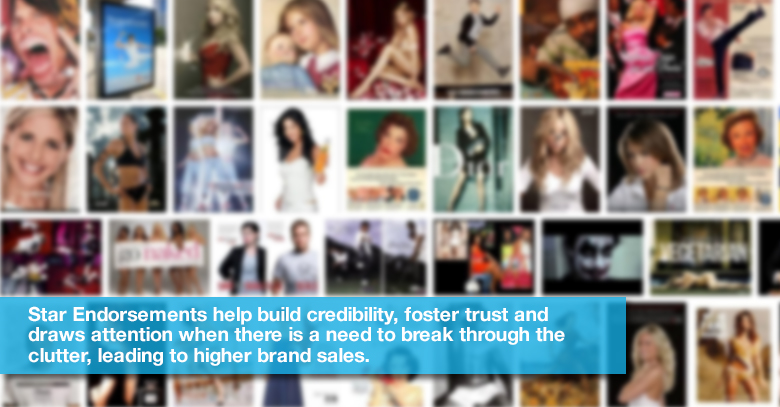 By Hurmayn Shah
These days, there is continuous debate if "celebrity endorsement" really contributes to building brand image, or is it just another approach to make your brand more prominent to manipulate consumer buying behavior.
While examining the influence of endorsements, I realize that giving your brand a "face" is more than just a marketing strategy; it is rather a decision that could change parameters of your brand forever.
The choice of celebrity for any brand should be given ultimate importance if the formula needs to work. It seems that we are living in an era completely stuck with star power, without realizing exactly how much is too much.
I mean, does Katrina really use Veet or Lux for her skin care? Or is it just a gimmick to sell these products?
A brand should really be cautious when employing celebrities to ensure some amount of believability. However, even big brands likeOlx Pakistan used some of the most unmatched associations with Amir Liaquatand it still seems to work.
While the magnitude of the impact of celebrity endorsement remains under gray spectacles, it is merely a matter of perception whether celebrities should really be used in a contextual manner or just allowed to become a prop. Also, the over-popularity of the celebrity sometimes overshadows the brand.
If the celebrity is involved in multiple endorsements, it tends to create confusion among consumers and negatively affects the perception of the brand and its advertisement, diluting its novelty.
Most endorsements in Pakistani advertising are based on movie stars and sportsmen. Similarly in India, almost every other brand is being endorsed by some well-known Hindi film star or cricketer, giving brands a glamorous touch and an overall recognition in a cluttered battle of brands.
With respect to celebrity scandal of Nike and Amstrong, Tiger Woods and the most recent one Kohli and Nike; Celebrities being human make mistakes, with all possibility of getting involved in media scandals. Hence, if any of their actions draw attention; it may adversely affect the brand they are endorsing.
There are a number of examples, both local and international, where companies had to take quick decisions to protect their image being thrashed because of the endorser's image.
According to P&G Pakistan, Shahid Afridi was a wise choice for Head & Shoulders, but how difficult or easy was it to overcome the ball tampering issue?
According to a global marketing consultant, Mohsin Ali Khan, "Successful marketers know the art of selling connections, as well as experiences and celebrity endorsements allow them to do that".
Nevertheless, signing up celebrities is a time tested strategy and has been effectively used by many top brands in the world including Nike, Pepsi Co, Tag Heuer, Loreal etc. for corporate image building and product marketing.
They have proved time and again that star endorsements help them build credibility, foster trust and draws attention when there is a need to break through the clutter, leading to higher brand sales.
From the marketing communications perspective, it is vital that these strategies are well integrated with elements of the marketing mix and target market perceptions to ensure audience interest and retain what your brand is communicating.
Also, most of us understand that endorsements don't necessarily mean that the product is good. It may simply be due to good PR management that a big name gets associated with any brand.
Hence, the practice of celebrity endorsement impacting a brand positively or negatively remains a debate, and perhaps an argument for full-proof success or fool-proof success.