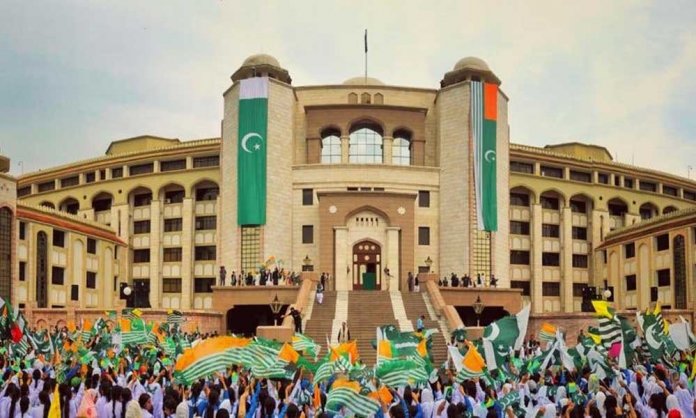 The situation is Kashmir keeps worsening, and the curfews and media blackouts make it all the more difficult to help the distressed community.
#KashmirHour is currently one of the top global trends on Twitter, owing to PM Imran urging the nation to step out in solidarity with Kashmiris and to stand up against the torture they are being subjected to for decades.
Incredible scenes at Shahrah e Faisal#KashmirHour pic.twitter.com/crZeIyIQdy

— 🄰🅁🄽🄾🄻🄳 🇵🇰 (@DaPakiGuy) August 30, 2019
It's trending at number 2 worldwide #KashmirHour pic.twitter.com/T1VeraZ9w0

— Free Kashmir 🍁 (@FantabulouSight) August 30, 2019
Today, the first ever official #KashmirHour was observed, where groups upon groups of people from all walks of life came out.
Many celebrities like Shahid Afridi, Faysal Qureshi, Adnan Siddiqui, Aijaz Aslam, Bilal Ashraf also decided to join the movement and make a difference.
Let's respond to PM call for Kashmir Hour as a nation. I will be at Mazar e Quaid at 12 pm on Friday. Join me to express solidarity with our Kashmiri brethren.
On 6 Sep I will visit home of a Shaheed. I will soon be visiting LOC.

— Shahid Afridi (@SAfridiOfficial) August 28, 2019
#IStandWithKashmir #PakistanZindabad @EhteshamuddinM @OfficialAdnanS @OfficialDGISPR @PTIofficial @ImranKhanPTI pic.twitter.com/ZGBg9F2O7G

— Bilal Ashraf (@IamBilalAshraf) August 30, 2019
#IStandWithKashmir #PakistanStandsWithKashmir @OfficialDGISPR @aijazz7 #moeenkhan pic.twitter.com/yS6zOiH9Mj

— Faysal Quraishi (@faysalquraishi) August 30, 2019
School going children and senior citizens were also present there.
School children in Islamabad in front of parliament house raise slogans in support of people of #Kashmir and demand freedom for Kashmir #KashmirHour #StandwithKashmir pic.twitter.com/sjSLkkoEJY

— Imran Ghazali (@ImranGhazaliPK) August 30, 2019
Senior Citizens contributing their part alone ❤️❤️#KashmirHour pic.twitter.com/n4d87IXvtu

— 🄰🅁🄽🄾🄻🄳 🇵🇰 (@DaPakiGuy) August 30, 2019
No matter what anyone says, I'm happy ppl went out to show solidarity with besieged Kashmiris. These grandmothers, a few of them Kashmiris themselves, led the way at Lalik Chowk (got photo from my boss). Sincerity of emotions is always better than hollow cynicism. #KashmirHour pic.twitter.com/OWPTkv28nt

— Nuzhat S. Siddiqi (@guldaar) August 30, 2019
However, while the motive of all those who stepped out and gathered to express solidarity to Kashmir, it is difficult to ignore that the protest might have caused more harm than good.
Blocking roads and chanting slogans is not letting #Kashmir free instead people including ambulances are getting frustrated while being stuck at schools pack up time. #KashmirHour #SaveKashmirFromModi pic.twitter.com/3QbQMgBFu8

— Azaz Syed (@AzazSyed) August 30, 2019
Children's school vans had trouble getting children home on time due to traffic jams, emergency patients in ambulances suffered because of the roads that were blocked, employees had difficulty reaching their workplaces in time.
Moreover, instead of protesting to make Kashmir part of Pakistan with slogans like "Kashmir Banega Pakistan", we should be protesting for Kashmir to be free to make their own decision.
Let Kashmiri's decide their fate, Let them give freedom,
We Pakistani's are standing with them in all cases. #KashmirHour pic.twitter.com/1YbFRRhoNW pic.twitter.com/OV4orm4sFh

— Mohsin Raza (@MohsinA72974182) August 30, 2019
One more thing that really caught our attention was the below tweet from PTI's official account:
As the entire nation steps out in solidarity, Bilawal tweets from his couch. #KashmirHour https://t.co/rDr2HtPWEg

— Tehreek-e-Insaf (@InsafPK) August 30, 2019
Somehow, amidst the chaos of nationwide protests, PTI's official Twitter account got the chance to take a jab at Baby Bhutto.
Anyway, let's see if the protests actually make a difference in freeing Occupied Kashmir or not.
Were you at the #KashmirHour protest, too? Let us know how it went!
Stay tuned to Brandsynario for more news and updates.