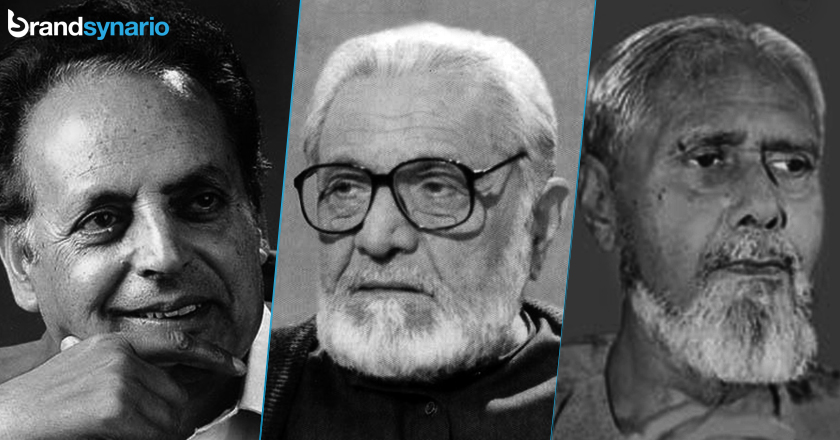 This article is written by Zenub Ayaz.
It's truly bizarre how this never ending course – rather curse – of entertainment has notched us away from the roots we have originated from. There was a Golden Era when Pakistan was free from the profanity and irreverence of hype hungry heroes; in those times the nation was moved by personalities who were worthy of their aspirations; scholars, wordsmiths, artistes.
Ironically the names of such true legendary personalities faded away and now the only national idols the nation could recall are Shahid Afridi, Wasi Shah, Fawad Khan and Mathira.
Sarcasmistan, a prominent Facebook page, run by Awais Ahmed Khan of Rawalpindi, alongwith HRDJ (Haider Javed) has taken an initiative "Bhoolo Matt" to remind a young Pakistani to what it has forgotten, if they are not completely oblivion to the existence of these legends.
BrandSynario appreciates the effort made by Sarcasmistan, as it is important to shed some light on these long gone legends who are the genuine epitomes of our country's heritage.
ASHFAQ AHMED
A wordsmith, a presenter, an intellectual and a spiritualist– Ashfaq Ahmed
QUDRAT ULLAH SHAHAB
The man whose acuity was different from all – Qudrat Ullah Shahab.
SA'ADAT HASSAN MANTO
A man who unveiled the darkest of carnalities and the malice of society. – Sa'adat Hassan Manto
ANWAR MASOOD
Whenever he spoke, people loved listening to him again and again – Anwar Masood
ISMAIL GULGEE
An engineer, who conversed through colors – Ismail Gulgee
JUAN ELIA
A poet, a philosopher, a biographer and scholar. – Juan Elia
RESHMA JEE
a voice with a soul. – Reshma Jee
MUSTANSAR HUSSAIN TARRAR
From Karachi to K2, he has seen it all, a traveller who has experienced life through his journeys. – Mustansar Hussain Tarrar
DR. ABDUS SALAM
The first and the only Pakistani who brought home the NOBEL PRIZE – Dr. Abdus Salam

Have anything else to this story! Let us know in the comment section below.