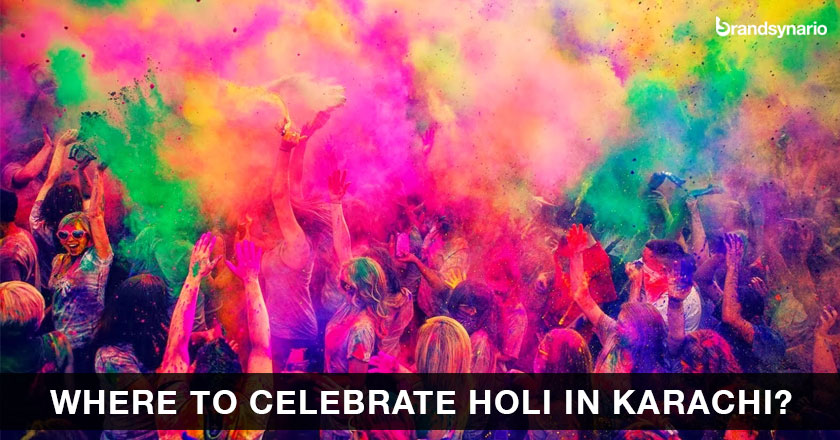 The Festive and colorful Holi celebrations will take place this year from Friday, 6TH March to Saturday, 7th of March, 2015. The Hindu festival which arrives every year in April is celebrated with great fervor and zeal not just in India, but here in Pakistan as well.
People in Karachi are celebrating the festival with mega- event based Parties which are themed around playing with dry colors. These are organized events which will be held in due celebration of the Festival, which will include singing, music, and dance-infused activities. The events will include Dry Colors for playing too.
The events include:
1) RANG THE BEACH
Date: March 28, 2015
Time: 09:00 am- 05:00 pm
Venue: To be disclosed to the Pass Holders
Contact: 0324-2060775, 0331-2144218, 0311-8029139
Check out the Facebook Event Page for this occasion over here.
2) HOLI MELA
Date:  07th March, 2015
Time: 14:00 – 23:00 pm
City: Karachi
Address: Pavilion End Club, Rashid Minhas Road, Karachi, Sindh, Pakistan
Contact: 0332-1131551, 0305-2482998
The Facebook page for this event can be viewed here.
3) HOLI HUNGAMA
Date: 07th March 2015
Time:  07:00 pm
Venue: Clifton, Karachi, Pakistan
Created by:  Advani Aneel Kumar
Whether or not you are a Hindu, it's time to give new meaning to the Holi Celebrations and add a festive air of colors to the month of March. For further details visit the Facebook pages for these events.