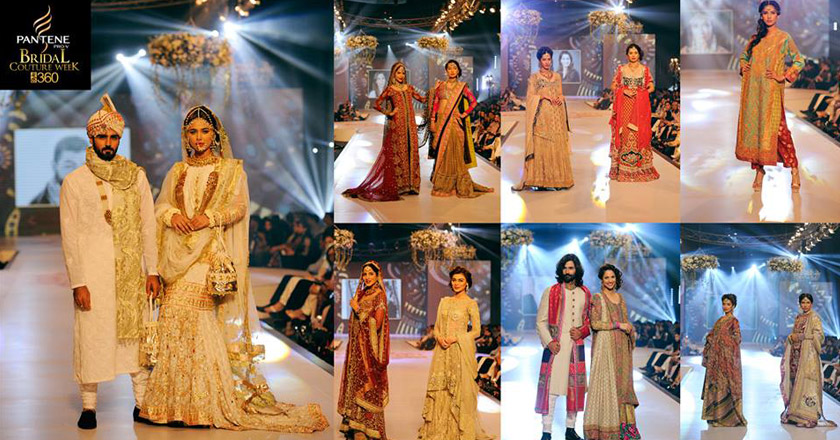 They say it's a new era in fashion – with no rules, no boundaries and no regional differences; but something magical always happens when you behold the glory of a heavily adorned desi bride walking down the aisle or a ramp in this case.
Yes, we are talking about PBCW 2014 (Pantene Bridal Couture Week) that mesmerized the audience for three consecutive days at Expo center Karachi. The event had some of the most notable Pakistani fashion names presenting their best designing skills.
The hopes were high, the stage was set and like always, the trends were set and magic was created.
Here are a few notable trends and facts that summed up the BCW 2014 for us:
IT'S IN IF IT'S PINK
From Amir Adnan to Nomi Ansari and Sana Safinaz – every designer chose pink as the color of the day. Neon bright, dull rose, deep plum, onion pink – we saw every possible shade of pink on the ramp.
So for all those brides-to-be who are still not sure about which color to choose – IT'S PINK! and not just for you but for your better-halves too (SEE BELOW).
HEADPIECES – THE NEW STYLE STATEMENT
Gone are the days when the bride used to be the shy lady with her head down at her very own wedding. It's time to let down the veil and make a statement with bold and gorgeous headpieces. Be it a lehnga choli or a saree – all designers made sure their models wore beautiful headpieces that complemented their dresses. 
DETAILING AND LAYERING IS THE KEY
No dress is worth it unless you have debated hours over the type of applique that would go best with it, the width of lace in the daaman or the length of its sleeves; this is exactly what we saw at BCW 2014.
Majority of designers made sure to add heavily layered embellishment and intricate embroidery in their designs. There were layers of jamawar fabric, heavily embellished with dabka, there were yards of net stitched with intricate multi-colored embroidery and what not!
If you want to shine like these models then head down to your tailor and start fighting ladies.
Apart from clothes, there were hosts of celebrities who walked the ramp for their favorite designers and graced the event with their presence. Some of the big names included Atiqa Odho, Zeba Bakhtiar, Maria Wasti, Mehwish Hayat, Shamoon Abbasi and Noor.
Amidst the glitz and glamour, there were some industry facts that were established LOUD and CLEAR
ALL HAIL TO THE KING – HSY
We saw more than a dozen designers, all of them brilliant in their own way but one of them still rules – Yes,Hassan Shehreyar Yasin is the undisputed King of traditional wear and bridal dresses in Pakistan. While the other designers needed multiple shades and plethora of cuts and layers to stand out amongst others, HSY did the magic with the purest of all colors – white. 
AYYAN IS SCORCHING HOT. PERIOD
Be it a commercial ad, a photo-shoot or a ramp walk – this 5.9' tall goddess can never go wrong with her porcelain looks and royal attitude.
MAKE-UP CREATES MAGIC
As for that, the BEFORE and AFTER PICTURE SAYS IT ALL.
Jokes apart, we hope our fashion industry continues to uphold our cultural values and traditional styles through similar efforts as PBCW 2014