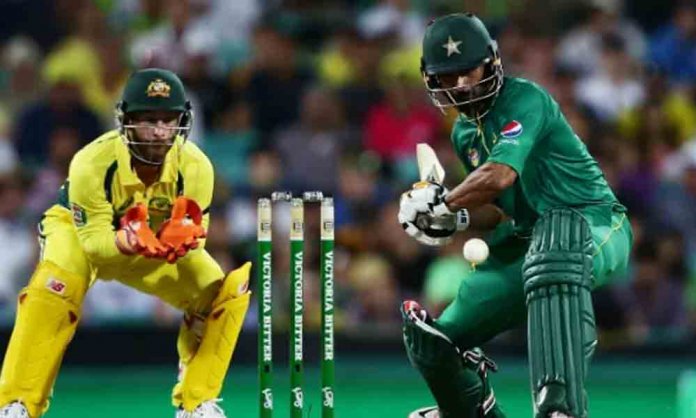 Australia has a chance to attain top position in the MRF Tyres ICC T20I Team Rankings for the first time when they take on Pakistan in a three-match series in the United Arab Emirates from Wednesday.
The mission though is not easy since only a 3-0 victory will lift the reigning 50-over World champions to become the eighth side to attain top ranking in the T20I format. England, India, New Zealand, South Africa, Sri Lanka and the Windies are the other sides to have been top-ranked.
Australia, who scored an easy seven-wicket win over the United Arab Emirates on Monday, are presently third with 123 points, just one point behind India, while Pakistan is perched at 132 points. A series sweep will take Australia to 130 points and bring Pakistan down to 127 points while Australia will move ahead of India to the second position with a 2-1 series win.
On the other hand, Pakistan needs to win just one of the three matches to remain in top place.
Series scenarios:
Pakistan win 3-0: Pakistan 136 points, Australia 118 points
Pakistan win 2-1: Pakistan133, Australia 122
Australia win 2-1: Pakistan 130, Australia 126
Australia win 3-0: Australia 130, Pakistan 127
There would also be several top-ranked players looking forward to the series with enthusiasm.
Australia captain Aaron Finch leads the list of batsmen in the MRF Tyres ICC Men's T20I Player Rankings with Pakistan's Fakhar Zaman aiming to bridge the 49-point gap.
Glenn Maxwell, the top-ranked all-rounder, would be looking to improve his ranking among batsmen as he is currently in sixth place with 761 points, only four behind Babar Azam of the opposing side.
In the bowlers' list, Pakistan leg-spinner Shadab Khan gets a chance to bridge the gap with Afghanistan's Rashid Khan, who is the top-ranked bowler. Andrew Tye also has a chance to move up from his current sixth position.
In between, Sri Lanka and England will play a one-off T20I which could see England lose one position with a defeat. They will lose four points and go down to 113 points and fifth position in such a scenario even as Sri Lanka will gain two points but remain ninth. On the other hand, there will be no change in positions with an England win, England going up to 117 points and Sri Lanka slipping to 87 points.
The predictor function is available here.
Upcoming matches:
Pakistan v Australia:
24 October – 1st T20I, Abu Dhabi
26 October – 2nd T20I, Dubai
28 October – 3rd T20I, Dubai
Sri Lanka v England:
27 October – Only T20I, Colombo
MRF Tyres ICC T20I Team Rankings (as of 23 October):
Rank    Team               Points
1         Pakistan             132
2         India                  124
3         Australia             123
4         England              117
5         New Zealand       116
6         South Africa        114
7         Windies              106
8         Afghanistan         92
9         Sri Lanka             88
10        Bangladesh         77
11        Scotland             62
12        Zimbabwe          55
13        UAE                   50
14        Netherlands        50
15        Hong Kong          42
16        Oman                 39
17        Ireland               35
*Nepal have 26 rating points but need to play one more match before being ranked
MRF Tyres ICC T20I Player Rankings (as of 23 October):
Batsmen (top 20)
Rank      Player                  Team     Pts        Avge      S/R        Highest Rating
1         Aaron Finch         Aus        891       45.60     162        900 v Zim at Harare 2018
2         Fakhar Zaman     Pak        842!      30.76     144        842 v Aus at Harare 2018
3         Lokesh Rahul       Ind         812       49.71     155  854 v Eng at Old Trafford 2018
4         Colin Munro         NZ          801       33.51     164    805 v Pak at Wellington 2018
5         Babar Azam         Pak        765       53.00     127        881 v Win at Karachi 2018
6         Glenn Maxwell     Aus        761       32.94     163        801 v NZ at Auckland 2018
7         Martin Guptill        NZ          746       34.40     133      792 v SA at Hamilton 2012
8         Alex Hales            Eng        710       32.67     136    866 v Ind at Edgbaston 2014
9         D'Arcy Short         Aus        690*!     41.88     132        690 v Pak at Harare 2018
10        Rohit Sharma       Ind         678       32.59     137        681 v Ban at Mirpur 2016
11=      Evin Lewis            Win        671*      33.06     157      780 v Eng at Durham 2017
Virat Kohli            Ind         671       48.88     136   897 v Eng at Edgbaston 2014
13        M. Shahzad          Afg         647       31.22     135     706 v Ire at Greater Noida
14        Jason Roy            Eng        641!      21.74     142        641 v Ind at Bristol 2018
15        Kane Williamson  NZ          634       31.33     121        760 v Ban at Napier 2017
16        Jos Buttler            Eng        614!      27.10     138        614 v Ind at Bristol 2018
17        Hashim Amla       SA          602       33.60     132        682 v Ban 2017
18        H. Masakadza      Zim        599       27.07     117        698 v Ban at Khulna 2016
19        Eoin Morgan        Eng        596       28.71     132    872 v Ind at Old Trafford 2011
20        Joe Root              Eng        595       35.77     129        750 v Win at Kolkata 2016
Bowlers (top 20)
Rank      Player                  Team     Pts        Avge      Eco       Highest Rating
1         Rashid Khan        Afg         793       12.40     6.01      816 v Ban at Dehradun
2         Shadab Khan       Pak        723       18.00     6.72      769 v Sco at Edinburgh
3         Ish Sodhi              NZ          700       19.33     7.43      739 v Pak at Wellington
4         Y. Chahal             Ind         685       18.97     7.85      706 v Ban at Colombo
5         Mitchell Santner   NZ          665       21.37     7.14      731 v Pak at Wellington
6         Andrew Tye          Aus        658!      20.89     8.70      658 v Pak at Harare 2018
7         Samuel Badree    Win        655       21.07     6.17      855 v Pak at Mirpur 2014
8         Imran Tahir          SA          653       14.95     6.77     795 v NZ at Auckland 2017
9         Adil Rashid           Eng        639       28.82     7.68      640 v Ind at Cardiff 2018
10        Shakib Al Hasan  Ban        633       21.06     6.74      672 v Pak at Mirpur 2014
11        Mohammad Nabi Afg         630       24.25     7.13     638 v Ban at Dehradun 2018
12        Liam Plunkett       Eng        627       25.04     7.81      643 v Ind at Cardiff 2018
13        Mohammad Amir Pak        609       19.98     6.83     700 v Aus at Edgbaston 2010
14        David Willey         Eng        607       24.67     8.44      615 v Ind at Cardiff 2018
15        Trent Boult           NZ          599       21.18     8.53      622 v Aus at Sydney 2018
16=      Chris Jordan        Eng        598       28.71     8.82      628 v Ind at Nagpur 2017
17.        Rahman           Ban        598       17.44    7.38   695 v SL at Colombo (RPS) 2017
18        Billy Stanlake       Aus        570*!     23.43     8.33      570 v Pak at Harare 2018
19        Mark Watt            Sco        568       26.36     7.53    573 v Pak at Edinburgh 2018
20=      Jasprit Bumrah     Ind         566       19.93     6.79   764 v Eng at Bengaluru 2017
All-rounders (top five)
Rank      Player                  Team     Pts        Highest Rating
1         Glenn Maxwell     Aus        366       396 v Eng at Melbourne 2018
2         Mohammad Nabi Afg         313       323 v Ban at Dehradun 2018
3         Shakib Al Hasan  Ban        309       408 v Pak at Mirpur 2015
4         JP Duminy           SA          225       276 v Ban at Mirpur 2015
5         Marlon Samuels   Win        222       321 v SL at Mirpur 2014
*indicates provisional rating
! indicates best rating