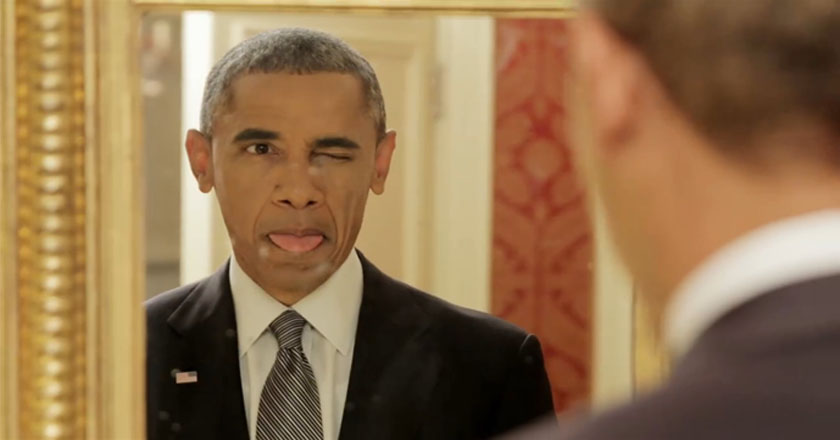 Sorry to break it to you, but Barack Obama is just a normal person.
That's right. Obama makes funny videos, he checks himself out in the mirror, he takes pictures with a selfie stick, he talks about himself in third person, he doodles away in a notebook and he even says "YOLO" from time to time.
AND he gets about 15 million views for it. You couldn't pay for that kind of viewership. Well done, Mr. President.
Barack Obama is working round the clock to promote healthcare within a hard-to-reach group – the elusive millennials. And how is he doing it? Obama worked together with BuzzFeed Motion Pictures to create the comical video titled "Things Everybody Does But Doesn't Talk About".
The main message was cleverly hidden in a scene in front of a spotty mirror, (spotty? Doesn't anyone clean for the President of USA anymore?), when the President is practicing a speech, "the deadline for signing up for health insurance is February 15th."
At the end he even goes "YOLO" to make his message clear. GET HEALTH INSURANCE OR ELSE YOU DIE.
But this isn't the first time that Obama has stirred up news, he has been actively promoting his causes on various social media and online video platforms, including working with Funny or Die for the video Between Two Ferns, doing an AMA (ask me anything) on Reddit and chatting with YouTube stars Hank Green, Bethany Mota and GloZell Green.
BuzzFeed's EIC, Ben Smith, interviewed Obama recently, after which the President decided to work with the BuzzFeed Motion Pictures Group, which is based outside LA.
Sources say that the president was a "good sport" about the project and "came to play."
Watch the amusing video below