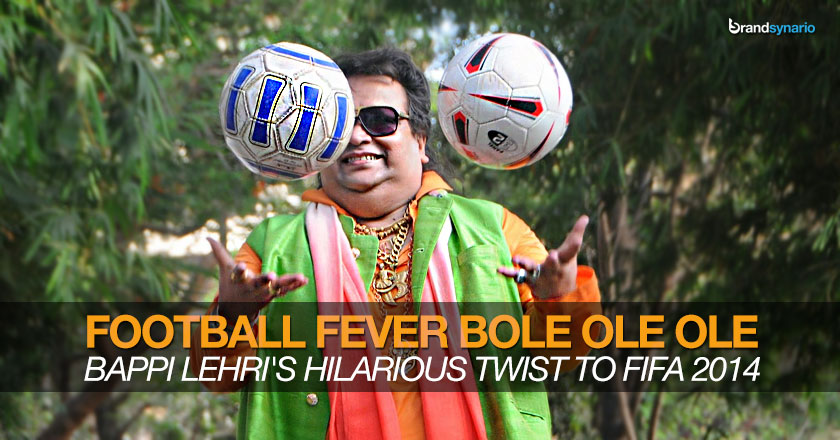 By Zenub Ayaz
If you think that the burger lot on your social media's (facebook/ twitter) list is driving you crazy with all those unwanted FIFA updates and statuses, and you have labeled them "cracked/junkies " and un-followed them THEN we're positive that you'll love this newest of the news! 
FIFA fever is the new "cool-thing" in the fair, meanwhile Bollywood's Music sphere, I mean master-Bappi Lahiri has shocked everyone with his latest song Love for Football.
This is not the first time that Bappi Da has transformed his passion for football in a song, the music whizz has done it before in 2010 as well. It was called Football Fever Bole Ole Ole.
This is the third time that the Gold-leaf of Bollywood's music industry has reached the pinnacle of his talent.
In this new soulful song, he expresses his love for the game while juggling two footballs. But the video is not out yet-THANKFULLY; ergo Lahiri has been creating a buzz by posting his pictures as he plays with his balls everywhere on social media.
"I have composed this song as a football lover. I have been watching football since childhood and it is my third time that I have composed a song for the game" said Lahiri.
Bappi Da, the illustrious composer further exposed that this time he supports Spain and his favorite player is Portugal's Cristiano Ronaldo.
When inquired about any superstitions that he may hold which could make the team he supports win, he answered  positively and said that semi-final onwards, during every game that he'd watch he'll keep on changing places in the hall while watching the match, depending on which direction suits the most.
Lahiri also wishes for his country to be a part of FIFA one day.