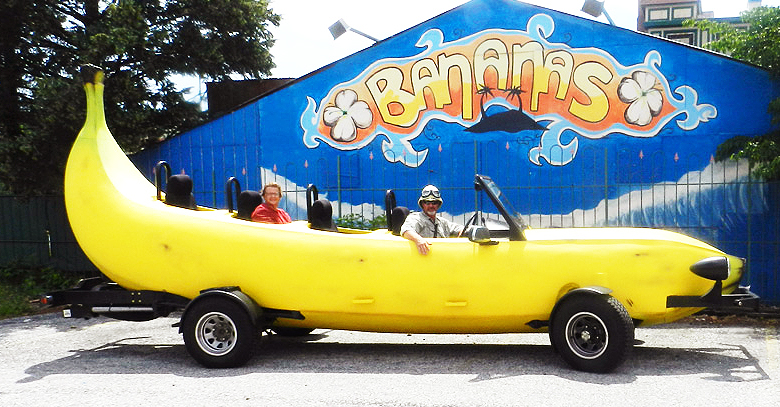 By Zulfiqar Ali Sajwani
As weird as it sounds there is an innovative car that is going to make you crave for its ride the moment you catch its first glimpse.
Imagine a 1993 F-150 lined in front of you. There is nothing much exciting about it right. Now imagine a huge banana on it. Yes, this is the part which makes one go like 'I want to go bananas with this Big Banana Car'.
Designed by a mechanic from Oxford England Steve Braithwaite, the car made the porch-sitting residents go bonkers when they saw Tom Brown, the promoter of the car, driving his Big Banana Car around Kalamazoo.
The mechanic and the promoter of the car met in Muskegon selling aerial photographs and address signs together and started searching for a new venture. Having a routine breakfast at Denny, they were instantly inspired by a 'Banana' and then there was no looking back.
According to Brown, the car aims to "make people laugh, have a good time, put smiles on their faces, promote a product, to get this around the world with Steve and to build the next car."
The duo has positioned this car as a promotional medium for brands, which is far more striking and attention grabbing than a typical billboard. With a vision of carrying this communication worldwide, they have launched an official website of the car called bigbananacar.com, where you can get all te information about how can you approach the car and make your brand the next big thing.
Brown and White wish to get the 'visas' for the car, but, unfortunately, that does not seem to happen anytime soon. However, premium brands like Planet Smoothie, Chiquita and Del Monte have already used the breath taking banana car for their promotion, leaving no reason for the makers to discontinue the innovative startup.
Looking at the pace of this 'fruit car', do not be surprised to wave at a giant banana car that crosses y your window. We are sure that even if you would not be dying to ride the automobile, it would definitely give you a reason to smile!