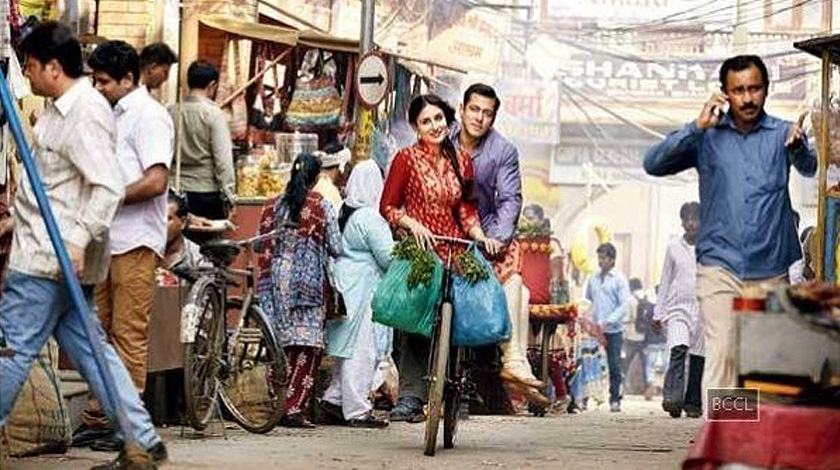 Raising the curtains of more than 5000 screens in 50 nations all over the globe, Salman Khan's blockbuster Bajrangi Bhaijan, starring Kareena Khan has undoubtedly become the most-talked movie of the season!
With a riveting storyline revolving around the mission to return a dumb and deaf girl back to her hometown in Pakistan, Bajrangi Bhaijaan has created a mighty uproar in the entertainment industry right before its release. A spree of continuous controversies, eager excitement and high hopes has kept the movie in a long-term limelight.
And now even the glitterati at B-Town cannot stop raving about Dabang Khan's Bajrangi Bhaijaan!
A special screening was hosted for the celebrities for an exclusive first look of BB, including Adnan Sami Khan, Karan Johar, Sonakshi Sinha, Jacqueline Fernandaz, Daisy Shah, Pulkit Samrat, Kamaal R Khan and Salman's own sister Arpita Khan Sharma.
Read what Bollywood celebrities rated Salman Khan's Bajrangi Bhaijaan.
It's official. #BajrangiBhaijaan is Salman's bestest ever. But who really steals the scenes is little Harshaali! I'm a fan!!— Jacqueline Fernandez (@Asli_Jacqueline) July 14, 2015
Watched #BajrangiBhaijaan last night n its safe to say its @BeingSalmanKhan's best movie.. Like ever. Well done @kabirkhankk, outstandinng! — Sonakshi Sinha (@sonakshisinha) July 14, 2015
Just watched #BajrangiBhaijaan very sweet film just loved the audience reaction with tear-filled eyes salman does it again @BeingSalmanKhan— krishika lulla (@krishikalulla) July 13, 2015
There wasn't a dry eye at the end of the screening of #BajrangiBhaijaan….an emotional journey majestically performed by @BeingSalmanKhan!!— Karan Johar (@karanjohar) July 14, 2015
After watching #BajrangiBhaijaan I can say only this tat if you have not watched this film then you have not watched best film of your life. — Kamaal R Khan-KRK (@kamaalrkhan) July 16, 2015
Just watched #BajrangiBhaijaan OUTSTANDING! Fabulously shot.. @BeingSalmanKhan's best ever! Congratulations @kabirkhankk @minimathur — Pulkit Samrat (@PulkitSamrat) July 13, 2015
Words can't do justice to explain wat u feel abt this. #BajrangiBhaijaan is a heartfelt movie! @BeingSalmanKhan @kabirkhankk #takeabow — Daisy Shah (@ShahDaisy25) July 13, 2015
Just returned from the screening of Bajrangi Bhaijaan. Can't choose the words correctly to express how much I loved the movie. — Arpita Khan Sharma (@khanarpita) July 13, 2015
Watched #BajrangiBhaijaan and all I wish to say is, the film has all it takes to WIN HEARTS and emerge a BOX-OFFICE BONANZA. Record-breaker!— taran adarsh (@taran_adarsh) July 16, 2015
Jst returned frm d screening of #BhajrangiBhaijaan . All I will say is that just get ready 4 d most amazing emotional roller coaster ride!— Adnan Sami (@AdnanSamiLive) July 15, 2015
Now all eyes are on Bajrangi Bhaijaan which is hitting the screens tomorrow that is Friday the 17th. While all previous Eid releases like Kick and Dabangg turned out to be lucky for Salman Khan, let's see if his movie Bajrangi Bhaijaan continues the legacy this time around.