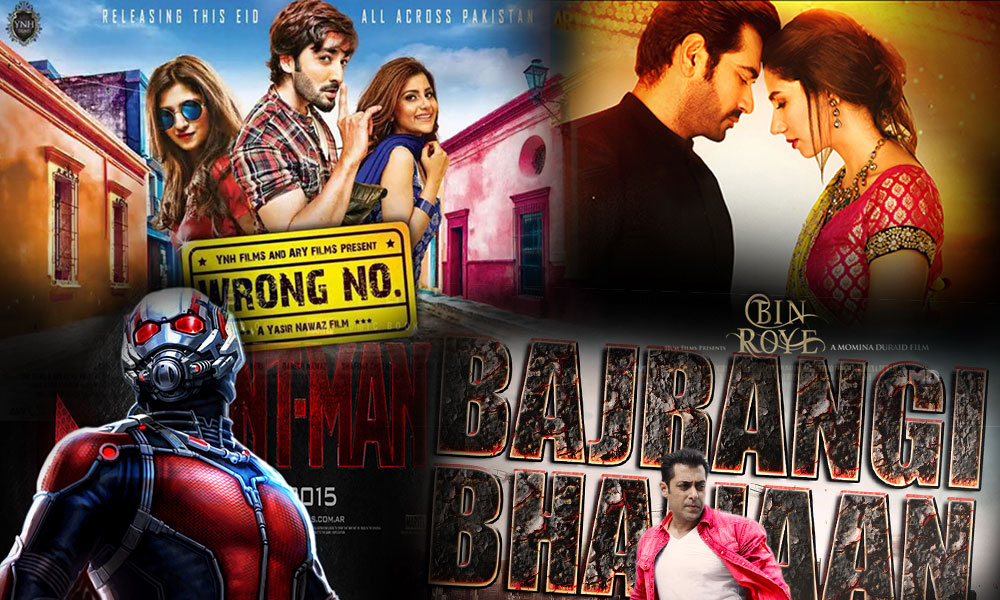 Pakistani movies Bin Roye & Wrong No. went head to head against Salman Khan's Bajrangi Bhaijaan on Eid 2015 and here are all the details on who won, who lost and which movie held its ground.
Pakistani cinemas witnessed major traffic as audiences rushed to watch their favorite desi movies during the Eid weekend, sidelining the otherwise blockbuster international movies.
As expected, Salman Khan's Bajrangi Bhaijaan outpaced the new local movies, Wrong No. and Bin Roye, though not without facing some tough competition. The movie managed to hit hearts all over the country with the moving tale of a speech impaired Pakistani girl, lost across the border in India.
Read more: Bajrangi Bhaijaan Twitter Review: Salman Khan's Best Movie Ever
As local producers feared, Bajrangi Bhaijaan managed to take most of the Eid business, making PKR 45 million along the way. The movie earned PKR 17 million on the first Eid day, only to break its own record on the second day by raking in PKR 20 million.
Yasir Nawaz's comedy Wrong No. managed to rake in PKR 25 million as people preferred to see it over Momina Duraid's much-hyped romantic drama, Bin Roye.
Wrong No. is also being compared to last year's blockbuster, Na Maloom Afraad, which in spite of doing slow business in the beginning, managed to break many records later while screening.
Read more: Wrong Number Failed to Get the Number Right
The star-studded Bin Roye started off slowly but managed to pick up business on the second day of Eid, totaling its earnings up to PKR 20 million, as quoted by Express Tribune.
Bin Roye, while failing to lead locally, enjoyed the added advantage of an international release and attracted audiences to Dubai and UK cinemas too.
Read more: Bin Roye Review: Twitteratis Rate the Family Drama 7/10
The director of Capri Cinemas, Farrukh Rauf, though happy with the business earned, believes that the Eid weekend business does not reflect true rankings. With the long weekend holidays and late night shows, it is difficult to assess the true box office strength of the movies and only at the coming weekend, will cinemas be better able to reveal the top winners.
As these three movies rivaled for screen space, the international movies like Ant-Man, Minions and Terminator Genisys took a back seat and performed poorly at local cinemas.
Internationally, Ant-Man ruled the US box office, earning a total of USD 58 million at opening, with Minions stepping down to second place at USD 50.2 million on their second weekend of release.
Watch trailer: Ant-Man Official Trailer Released
Terminator Genisys, in spite of all the bad reviews, still rules the sixth place at its third weekend of release, earning USD 5.4 million this weekend.