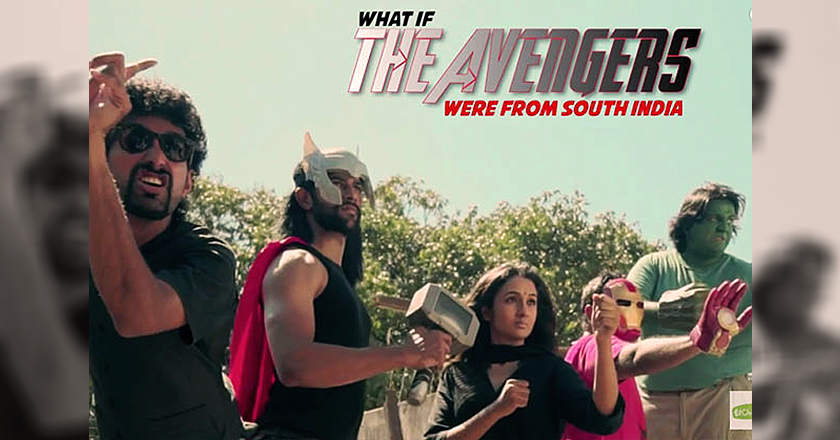 It seems that the Indians have doubts on the day-saving skills and heroic abilities of Marvel's Avengers, for the nation has now assembled an army of their own desi, very "Faarigh" South Indian Avengers.
But unlike the imaginary Sokovia, India seems to be in no apparent threat of an alien invasion and thus, the poor band of superheroes are on the prowl in the city, searching for jobs.
Read More: Iconic Bollywood Songs Within 3 Minutes
A hilarious, sardonic spoof of the real legendary Avengers "What if the Avengers were From South India" is a YouTube clip of the witty, comedy group "Put Chutney".
The not-so-action packed video of India's local Avengers gives an entertaining sneak peak in the slow, boring lives of a bunch of jobless superheroes.
Watch the Put Chutney's "What if the Avengers were From South India" video below:
What if The Avengers were from South India… by PutChutney
Under the supervision of the Fury Jaganath aka Nick Fury, the team is saved from the terror of remaining forever unemployed by the power of the S.H.I.E.L.D initiative – Super Hero Immediate Employment Liaison Department.
The Avenger boys all suited up and the Black Widow complete with bindi, are available for hiring via the S.H.I.E.L.D application on the cell phones.
Read More: Kal Ho Na Ho Remake by Germans
And work they eventually find – from Hyderabadi Hulk breaking coconuts to Captain America protecting people the scorching sunlight, the Avengers vow to be at the assistance of the civilians and that too not at a pricy rate.
Charging INR 300 for 3 hours, they will even add life to the South Indian parties and shaadis in the city with their not-so-heroic services. And if people want to hire them on Sundays, they apparently have to pay them double.
Eager to add a Desi twist and a South Indian takda to their every initiative,  Put Chutney kick -started their satirical superhero series with their debut video "What if Batman was from Chennai".
What If Batman Was From Chennai? | Put Chutney by PutChutney
Seeing its popularity, Put Chutney released its squeal of the South Indian Avengers which has reaped mighty views of 164664 in just one day.