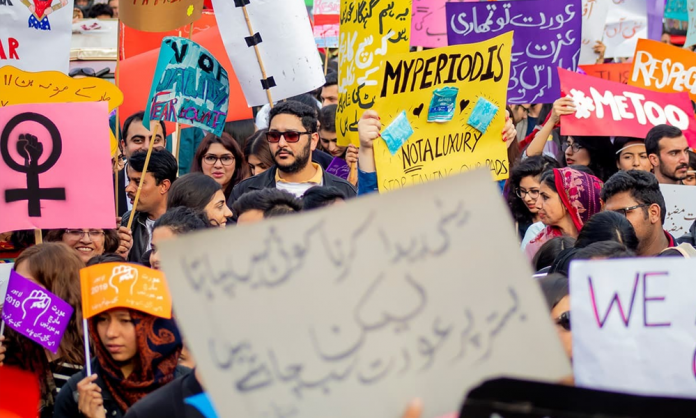 It's safe to say that the Aurat March 2019 was a massive success and the number of people who turned up at the march was ample to demand a change.
The Aurat March 2020 meeting had several women, trans people, and non-binary people appearing at the Arts Council, with the fire burning deeper than ever in their hearts to break the patriarchy and counter sexism from the public discourse, the press, and the laws of Pakistan.
A day before an official statement of the Aurat March's first organizing meeting in March 2020 there were some people lashing out.
It had managed to strike a nerve when thousands of men came down on Facebook and made a mockery of the entire concept of Aurat March and made vile comments.
Look at our power 🙌 😍

The first #AuratMarch2020 meeting to organize and rally for March 8 2020 🌈 pic.twitter.com/vbR6oxYZXX

— AuratMarch2020 – عورت مارچ (@AuratMarchKHI) November 27, 2019
Despite the cyber-attack by a troll brigade of mostly misogynist, sexist men who threatened murder, death, and various other forms of violence, the call for the meeting drew a very diverse, inter-class group, including not only women from religious minorities, but also transgender people, non-gender, genderqueer, and non-binary people.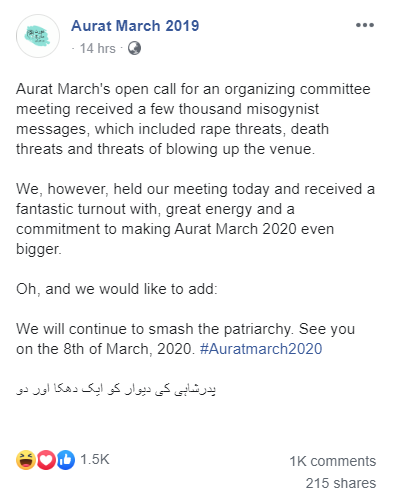 Have a look at how people have responded to the Aurat March 2020. From the negative to positive – there were some mixed responses to look at.
Some people decided to inquire about the real issue people have with the movement 
Just for the sake of my own understanding, what exactly is the issue you all are having with #AuratMarch? What type of damage is it doing to you that you are giving off this much hate, rape threats and death threats? #Pakistan

— Sehr Rushmeen (@rushmeentweets) November 28, 2019
More people came forward and demanded something more out of the March 
I haven't written or said anything about #auratmarch so far but it would've been much much better if this feminist brigade would've urged for:

Nikkah

Showed Hadith about their rights that we men fail to provide.

Should've taught men about the importance of women in islam contd

— Daniyal Baig (@daniyalbm) November 27, 2019
There were some questions about the rights of men
#auratmarch was trending and ppl were chanting but when it comes to #InternationalMensDay2019 , ppl forget that men are also a gender

— Raja Sameer😈 (@di5appointment) November 19, 2019
Another user who is in support fo Aurat March lauded the entire concept. 
I love that Pakistani's are voicing their opinions knowing that everyone might not agree with them. it's important to voice your concerns, #StudentsSolidarityMarch #auratmarch

— aima (@brownaima) November 26, 2019
The responses continued 
#AuratMarch is a cover for LGBT movement in Pakistan. Now that they've announced to join the #StudentSolidarityMarch, they will turn it into a joke. I can already see their hilarious posters & slogans.

Don't expect serious people to march along those clowns!

— Junaid S. Hayat (@JunaidSHayat) November 21, 2019
And then there was this!
#auratmarch2020 #auratmarch https://t.co/4dmMWcMjgL pic.twitter.com/FMqw6m9UHv

— Birdie 🐦 (@ExcaliburKZ) November 27, 2019
Aurat March has garnered a lot of popularity amongst the masses. This march will show solidarity with their fellow women to push for accountability and restorative justice against violence, harassment, and injustice.
Let us know what you all think about this change in Pakistan that has mixed reactions for the public.
Stay tuned to Brandsynario for more news and updates.