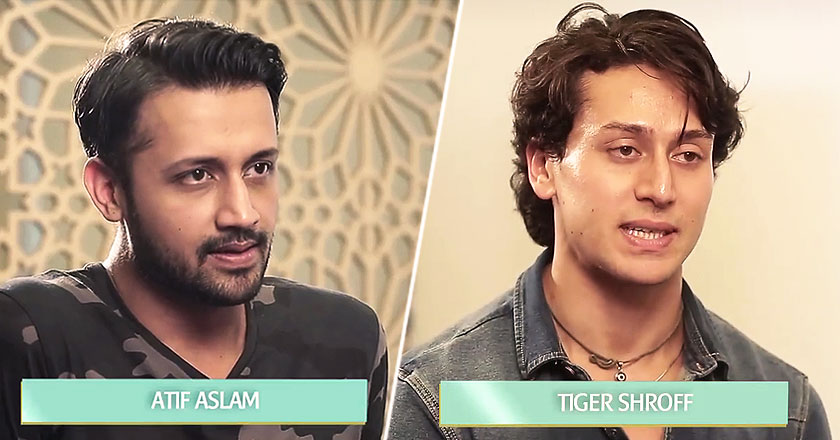 Atif Aslam & Tiger Shroff singer-actor duo has taken the music industry in India & Pakistan by storm with their recent collaboration, Zindagi Aa Raha Hoon Main. A week into its release, the video song is a major hit with the audience already.
In a recent interview with 9XE.com, Atif Aslam shared that the song was originally Tiger Shroff's idea as a thanks to his supporters and fans for all the love that they gave him when he made his debut last year.
Moving forward with the idea, Tiger Shroff approached renowned choreographer, Ahmed Khan, who created a catchy track and offered Atif Aslam the opportunity to join the team, who was then working on the now hit Badlapur song, Jeena Jeena.
With Atif Aslam on board, the team was all set to start recording of the much-anticipated song of the year.
While the experience was entirely different for Atif from what he has done in the past, he took it up as a challenge and lived up to all his fans' expectations.
When asked about their acting careers, Atif stated that while he has had many Bollywood offers in the past couple of years, he is looking for the right team to make his debut appearance in Bollywood. 
On the other hand, Tiger Shroff says he needs more practice and experience before he can make a side by side appearance with his talented father, Jackie Shroff, in a movie.
Atif Aslam also revealed how breaking away from his band Jal was the best thing that has ever happened to him. It allowed his to explore himself as an individual and take up opportunities that he couldn't have otherwise.
He also shared how he feels flattered yet humbled that the band members of Jal still call him up to ask him to rejoin them, but he is not willing to go back.
Hmmm, we have a feeling Goher Mumtaz has a different side to the story.
Watch the exclusive interview below:
[fb_embed_post href="https://www.facebook.com/9XE/videos/838776226199297/" width="550″/]
Also, enjoy the smashing hit Zindagi Aa Raha Hoon Main feat. our very own rock star Atif Aslam:

Zindagi Aa Raha Hoon Main Full Video Song-1 by moviesnhacks