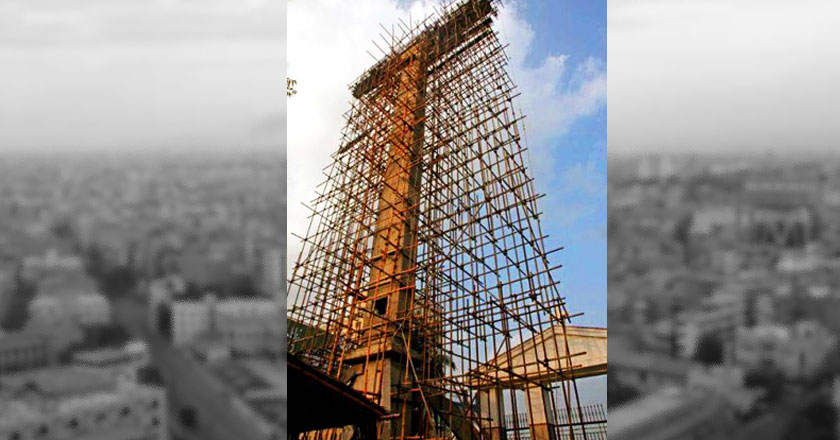 A 140 ft. tall cross, built out of roller-compacted concrete, is being constructed in one of Karachi's oldest Christian cemetery  as a sign of religious tolerance. 
Funded by Henry Gill family, it is deemed to be the largest cross structure of Asia. The Gill family has contributed to creating another reason to love Karachi and to promote it is as Pakistan's mainstream city of religious tolerance and cultural diversity.
The name of the exact cemetery is not being disclosed yet.
The construction of the structure is being administered by Parvez Gill himself. A combination of steel and concrete, the structure of the building will be 20 ft. deep.
The architect for the structure is Musa Gill and it has been planned to be completed in the next three months.
According to Parvez Gill, "The image of Pakistan, as far as the minorities are concerned, is really tarnished. We are trying to tell the world that there are good people here too."
He expressed his hope that this building will reduce the prevailing stress and discord that has been created in the recent events. He stated that, "I agree that minorities have problems here and that is why some of them are migrating. But this [cross] will build show that [attacks on minorities] are not the only thing happening in Pakistan."
Initially, people were unsure whether they wanted to work on the project or not. There are several security threats involved. However, at present the construction team has both Muslim and Non-Muslim laborers involved in the workforce.
Anwar Sardar, the general secretary of the Karachi Christian Cemeteries Board said that "We gave them permission a year ago to build [the cross] but the construction work has recently become fast."
He further added that security threats are everywhere and anything could happen in this city but there is little we can do about it.