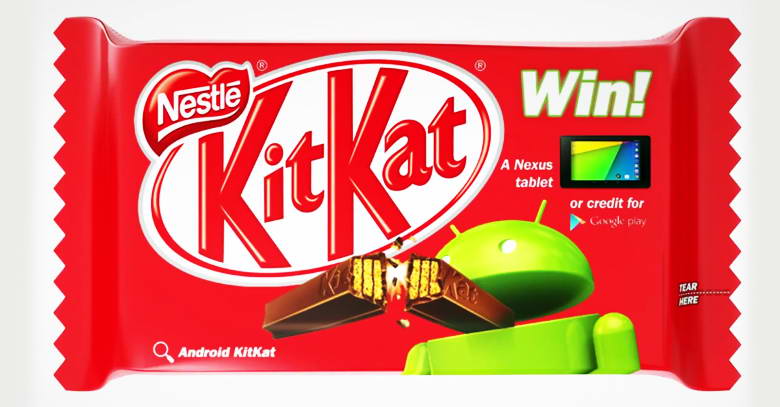 Google names its new Android operating system "Kitkat". Yes you read it correct, the new Android 4.4 is named after the famous Nestle chocolate, KitKat. Google officially announced the news on Tuesday.
Android has been famous for naming its mobile operating systems after delightful deserts such as Éclair, Froyo, Gingerbread, Honey comb, Ice Cream Sandwich, Jelly Bean and now KitKat. This remains to be the first instance of an established brand name being used for this purpose.
The official Google page has a picture of the famous green Android robot-logo made up of KitKat.
Technology websites such as Mashable and TechCrunch have reported that no money has been exchanged in this deal. Therefore, the only theory that comes to reason is that the deal will serve as a 'cross-promotional' tool for both the brands, Google and KitKat.
Not many people know that the history of "Kit Kat" goes back to 18th Century as a reference to a desert. Nevertheless the brand KitKat, formerly owned by Rowntree, has been around for 8 decades now.
In 1988 Rowntree was bought by Nestle which now owns the brand all across the globe except in America, where it is sold under Hershey's umbrella.
Hence, 'Android-branded' KitKat bars are also making their way to the market, with Android's logo on its wrapper. Android and KitKat have also launched a contest giving the fans a chance to win Google Nexus 7, free Google Play credit, tablets and other such prizes.
It is notable here that Google's Senior Vice President recently confirmed the news that, Android has reached a billion activations. This implies, with Android's audience getting as large as 1/7th of the world's population, KitKat is in a 'sweet' place.