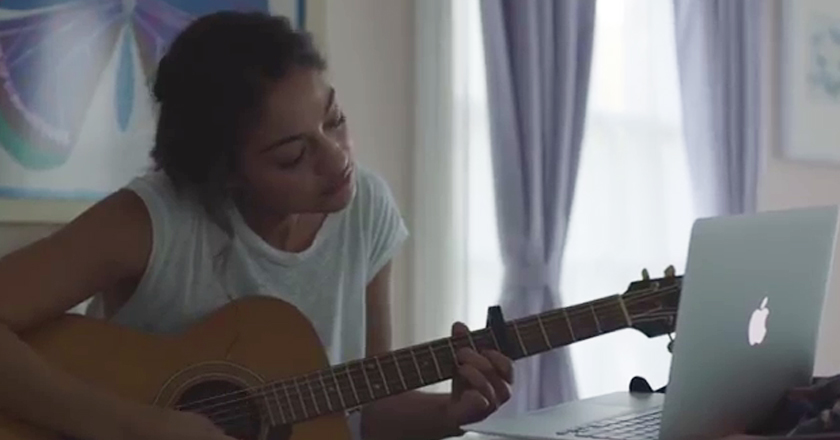 [fb_embed_post href="null/" width="null"/]Life is much more than gadgets and smartphones– the tech giant Apple has yet again proved this with their latest holiday ad.
The 90 seconds ad, titled 'The Song' pulls at viewer's heartstrings with its emotional appeal through a heartfelt tale of a young woman who records a newer version of a song in 'duet' style, lastly recorded by her grandmother for her late grandfather with the help of Apple's products.
There's no doubt this is a touching effort from Apple's marketing team: it's bound to cause a lot of tears wept into mince pies and sherry glasses.
Watch the ad here: 
Apple's strategy of 'Happy Holidays' has proven to be a great one, allowing people to stay connected to their family and friends. The world is crying and microblogging site Twitter is abuzz with praises for Apple's latest marketing stunt.
Check the Tweets Below:
Seen that Apple "Our Love Is Here To Stay" commercial twice today. I think somebody is chopping onions in here.

— tommy tomlinson (@tommytomlinson) December 15, 2014
THAT APPLE COMMERCIAL JUST MADE ME CRY AGAIN DON'T LOOK AT ME

— Holly Amos (@hollyamos22) December 15, 2014
props to whoever made the Apple commercial where the girl makes the song for her grandmother because there are tears streaming down my face

— Abby Huber (@ahubes1023) December 15, 2014
Last year's holiday ad "Misunderstood," focused on a boy who was seemingly occupied in an iPhone only to reveal that he had secretly recorded a video of his family's festivities. That ad also won an Emmy in the Outstanding Commercial category.
Watch the last year's ad: