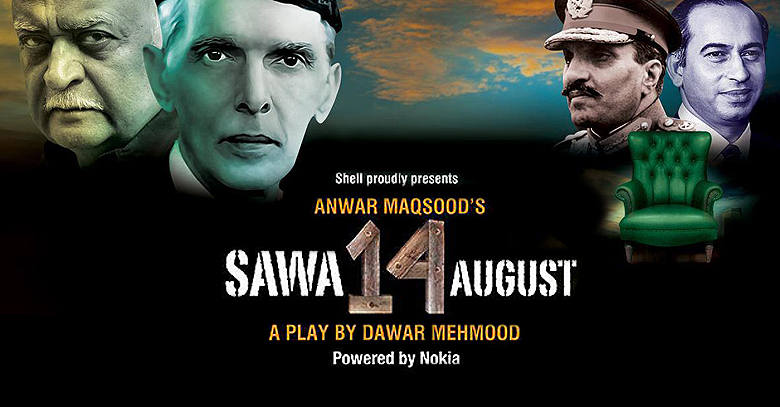 Nobody in Pakistan ever denies the fact that this country is bursting with talented people; doctors, actors, engineers, artists and even cricketers. There is simply no boundary that can behold the talent in Pakistan.
With every passing day people witness the situation getting worse, but within all this dilemma lies something to feast your eyes upon. Theatre in Pakistan has indeed made its comeback. Once again our country is becoming famous all over the world for its entertainment industry, it wouldn't be wrong to specify Pakistan's drama industry as a major highlight in all this glory.
A few of the renowned personalities from the drama industry in collaboration with NAPA finally made it possible to revive the charisma of Pakistani theatre.
Anwar Maqsood – the country's living legend made his contribution to Pakistani theatre for the very first time in 2012. Pawnay 14 august was the first play he ever wrote for theatre and it certainly took Karachi by surprise.
People were amazed to have witnessed such a remarkable experience, it made them cry and laugh out loud at the same time. The auditorium of the Arts Council of Pakistan remained chock-full from day one. The play did not only entertain the audience, it even educated them in various ways.
After the huge success of Pawnay 14 august came 'Aangan Terha'. This theatrical performance was produced by the team of Pawnay 14 august – KopyKats Productions.
This play again was a smashing hit, for people who have seen the original drama; this play was a journey down the memory lane. The character of Akbar was performed by the talented Yasir Husain and was much loved all over again.
This year Pakistan is all set to be amused and inspired once again, as the news of Pawnay 14 August's sequel spreads like fire.
KopyKats Production have named the sequel 'Sawa 14 august' where the audience will be given a chance to experience a new era where Zulfiqar Ali Bhutto and Zia-ul-Haq will be confronting Quaid-e-Azam face-to-face.
The play is expected to arrive on August 13th, 2013 and will keep mesmerizing the audience of Karachi till October 30th.
What are your expectation from 'Sawa 14 August'? Share with us in the comments below