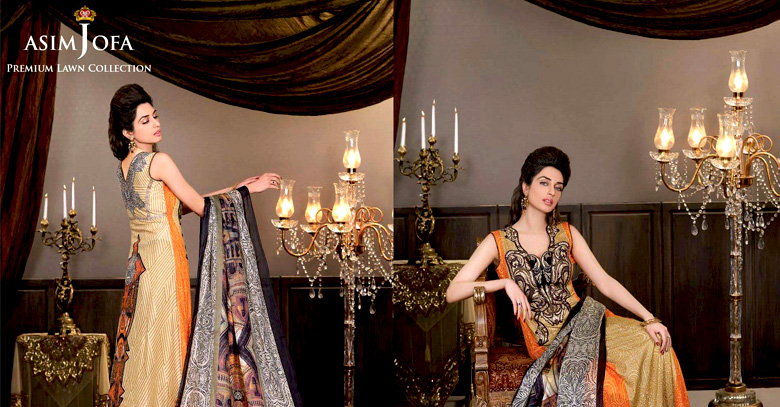 Muhammad Asim Jofa, CEO, Jofa Group discusses his passion for creativity and the conglomerate of style that he has established.
About his expertise and vision:
My professional expertise is basically in the design and creativity of my products, be it in Jewelry or my leading Premium Collection of Asim Jofa Lawns. I have a diversified product line, from Diamonds to Jofa lawn, to exclusive consumer products and various upcoming projects.
For me, it was a natural evolution since I was always passionate about creative high-end designs. As diamonds were our family business, I started designing professional jewelry, but that never fully satisfied me. Hence, I decided to introduce Asim Jofa Prêt line and finally came up with Asim Jofa Lawn for the masses, which has a distinct feel and high standards of quality and finesse.
The Asim Jofa Group is positioned to provide remarkable levels of comfort and style, and guarantee that all eyes are on you when you are clad in any of the Asim Jofa ensembles, whether at a glitzy party or walking down a busy street. I design exclusively, keeping the ASIM JOFA woman in perspective.
DEFINING THE ASIM JOFA WOMAN
The Asim Jofa woman can be a career professional or a homemaker. She wants to stand out and stand above the rest, recognizes style and is selective and elegant.
His premium jewelry brand and global consumer trends:
I joined my family business in my late teens, almost a decade ago. Like the family jewelry business, Asim Jofa Premium Jewelry employs precious stones only like diamonds, rubies and emeralds; and integrates Western and Eastern design elements depending on the nature of the market and clients.
The most startling transformation that I see has been due to technology that has made the global industry a glocal one, which has changed the entire ball game for our business. Consumer trends in style and fashion are only a click away. Particularly in our segment, the designs and consumer trends are now startlingly similar in both local and international markets.
THE JOFA PRÊT LINE
The Jofa prêt line is unique with distinct and exclusive designs for individual clients. Our signature style is the incorporation of jewelry designs that reflect subliminally in each piece. The prêt line usually has evening wear and bridal collections, and targets the A+ segment.
I display my collection throughout the world and design for different international segments, keeping in mind distinctive tastes of the people I'm designing for.
The much sought after Asim Jofa Premium Lawn Collection and its evolution:
It's specifically designed keeping the modern Pakistani woman in mind and aims to pamper and flatter her to the core, through its uniqueness and theme that must appeal to the Jofa Woman. An essential highlight of my lawn is its embroideries and embellishments. Also, we use good quality threads and dyes, paying great attention to the thread count and feel of the embroidery.
I launched it as a niche brand, yet it has already penetrated amongst women belonging to all facets of society in a short span of time developing a strong brand equity. Our last Limited Edition Spring 2012 collection was sold out within three record days, and we had to change all our communication.
This response took us completely by surprise, yet the brand is still evolving as a serious player in the market and we are planning to take our unmatched design, quality and price to another level. Also, our target market has evolved to include women from the B+ onwards income groups.
DESIGNING AND DEFINING THE ASIM JOFA PREMIUM LAWN COLLECTION
Normally, I go with the flow of my creativity. The key is to have a pulse of what the Jofa Woman wants: Usually, my designs are according to local and international fashion trends, I try to make them unique and practically wearable for most occasions.
Rationale behind the controversial, "I wear Asim Jofa", campaign:
Even though a lot of people feel that this campaign for the Limited Edition Spring 2012 collection gave a feeler of alienating certain socio-economic classes, I see it quite differently: It was a tool to deliver the message that Asim Jofa lawn is of superior quality and for everyone.
It was a revolutionary advertising campaign to reposition the brand, having two parts; the first part said, "I drive a convertible, I wear Asim Jofa", which conveyed the quality of the brand. The main message was the second part of the campaign which said, "I am a student, I wear Asim Jofa", "I am a Banker, I wear Asim Jofa", "I am a house wife, I wear Asim Jofa" etc. Now these people can belong to any socio-economic class, yet the message got through perfectly that Asim Jofa Lawn is for the JOFA Woman!
PROMOTING HIS LAWN COLLECTION
We utilize print, outdoor, electronic, broadcast and digital media to communicate our brand presence. We have a very strong Facebook presence and our website receives a sizeable number of unique user hits globally.
Also, as PR efforts, we publish our shoots in various magazines and newspapers on demand and I'm personally more than happy to answer any queries the media has regarding the Jofa Group, especially our premium lawn collection.
DEVELOPMENTS IN LAWN PRINTING AND FINISHING
Latest jet-set technologies are utilized in fabric printing nowadays for sharpness. Asim Jofa Lawn prints possess a crisp refined look unblemished by misprints, fade-outs or bleeding issues.
CURRENT LAWN RETAIL TRENDS AND THEIR IMPACT ON THE TEXTILE INDUSTRY
The current retail trends are having a positive impact on the textile industry as more dealers and retailers are educated and show professionalism versus a decade ago. Retail still remains the back bone for the textile industry, which was why we utilized this segment instead of holding an exhibition for our Spring 2012 Collection. It was a very pleasant experience for us, as we were sold out in only three days.
LAWN EXHIBITIONS – A FAD?
Exhibitions are a good forum when selling to the elite, since they generate sales and PR. Yet, a brand's success can't be judged from these, since the target audience is too limited for such a deduction. I believe exhibitions are a fad in the mass market context, but since they work for certain brands and products, the trend may continue for a while in Pakistan. For instance, exclusive exhibitions and elite fashion shows to display customized prêt lines is a good option. In the long run though, retail marketing is vital for any brand.
TACKLING PIRACY
The line between inspiration and copying is so thin that all I'll say is that a copy always benefits the original.
PROMOTING BRAND PAKISTAN INTERNATIONALLY
The international have given positive response massively to the JOFA brand with extremely feasible results, which in turn promotes Pakistan and paves way for other high-end designers from amongst us.
Also, recently we participated in the Lifestyle Pakistan exhibition held in New Delhi, India, arranged by the Trade Development Authority of Pakistan (TDAP), which was a successful experience and we displayed the Asim Jofa Couture Collection on the Grand Finale, the most important part of any fashion event.
ESTABLISHING LOCAL BRANDS GLOBALLY – WHAT'S MISSING?
Lack of consistency and lack of knowledge in running a professional franchise and the mishandling of its dynamics seems to be the major missing link. Also, skilled labor may not always be available globally.