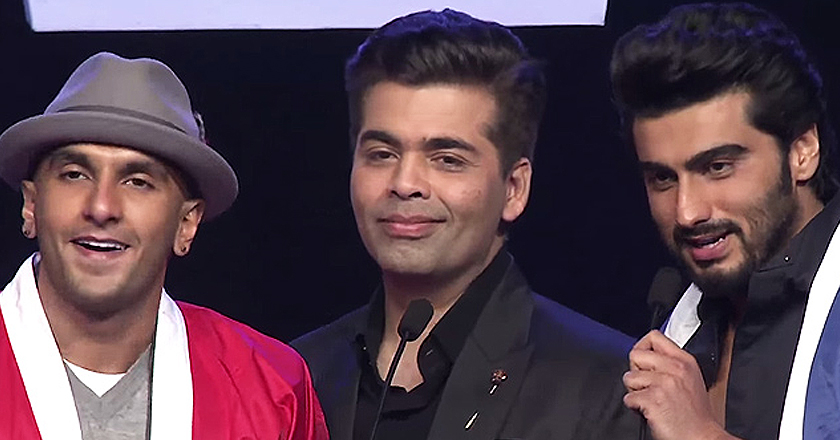 Originally intended to "roast" the actors in good humor, AIB Roast has managed to roast them in real life too. Renowned director, Karan Johar and Gunday fame actors, Ranveer Singh and Arjun Kapoor have been in trouble with a number of political and cultural parties of India, for using abusive content and language in the show.
President of Maharashtra Navnirman Chitrapat Sena, Ameya Khopkar, demanded an apology for producing and airing such a vulgar show and threatened to ban the screening of all featuring Bollywood participants' future movies. While conveying his disgust for the show, he was quoted saying, "What kind of message are we giving to the world outside? What if small children, who follow Ranveer and Arjun, watch this show? Will they not be spoiled after watching such shows?"
A number of criminal complaints have been lodged by multiple authorities of India against Karan Johar, Arjun Kapoor and Ranveer Singh, the venue owners and even, ticket sellers. President of Brahman Ekta Seva Sanstha, Akhilesh Tiwari, one of the complainants, said, "The show, which can be seen on YouTube and other websites, was extremely abusive and it is not only ruining the clean image of the Indian culture & women, but is also misleading today's youth."
In response to such political and cultural outrage, the makers of the show have taken it down from YouTube and other websites, for now.
Have taken down AIB Knockout for now. We will speak soon.

— All India Bakchod (@AllIndiaBakchod) February 3, 2015
In spite of the vulgarity of the show, AIB Roast was an instant hit around the world, scoring over 400 million views in just four days of its release. Other participating Bollywood actors including Sonakhshi Sinha, Deepika Padukone and Alia Bhatt, who while being insulted at the show for their personal and professional lives, were all praises for it too.
So nice to see twitter is filled with such angels who point out hypocrisy n never use foul language n have nvr laughed at dirty jokes (haw)

— Sonakshi Sinha (@sonakshisinha) February 3, 2015
Some "not taking life so seriously" lessons are needed. DESPERATELY!!!!

— Alia Bhatt (@aliaa08) February 3, 2015
The #AIBKnockout is the coolest funniest show I have EVER witnessed!@AllIndiaBakchod @arjunk26 @karanjohar @RajeevMasand

— Deepika Padukone (@deepikapadukone) December 20, 2014