Did you hear about the Police skating force in Karachi? As the name indicates, the police force has some of its people trained to move, run and fight while wearing skates. This was in line with the fact that you will find a lot of traffic jams on the roads of Karachi or that sometimes the streets are very narrow. In such a situation, the skater force can take over. This was a creative initiative. Another initiative has been taken in Lahore, launching Ababeel Squad.
Ababeel Squad
On 27th February 2021, Lahore witness the launch of the Ababeel squad, which comprises 40 armed officers on 20 motorcycles. This squad has appeared after the Dolphin squad. The aim obviously is to make the city safer. The launching ceremony of Ababeel happened at the District Police Lines Qila Gujjar Singh.
CCPO Lahore cut the ribbon at the inauguration ceremony and rode the Ababeel motorcycle. Some other lead figures present at the ceremony were DIG Investigations Shariq Jamal, SSP CIA, DIG Operations Sajid Kiani, SP Mobile Squad, SP Security, SP Headquarters, all divisional SSPs, and of course the Ababeel Squad members, among other people.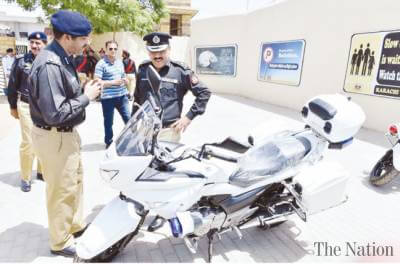 CCPO at the ceremony
Addressing the ceremony, CCPO said that the squad was extracted from the police force itself and not from outside. Existing police officers were given special training to patrol the Lahore streets in the city's highlight places. SP Mujahid Squad will head the squad.
Other than the Ababeel Squad, Lahore also has Dolphin Squad, Police Response Unit, and Punjab Safe Cities Authority. It is said that the three forces together have not yielded much result, but the addition of Ababeel may make the expected difference.
And if, as CCPO has stated, the whole squad will reach the crime location in a group of 20 motorbikes, it actually seems possible. I mean, just imagine how protected the victims would feel when 20 bikes and 40 policemen approach. Moreover, they will keep patrolling the streets so they can reach the location they are required to on time.
Stay tuned to Brandsynario for the latest news and updates!