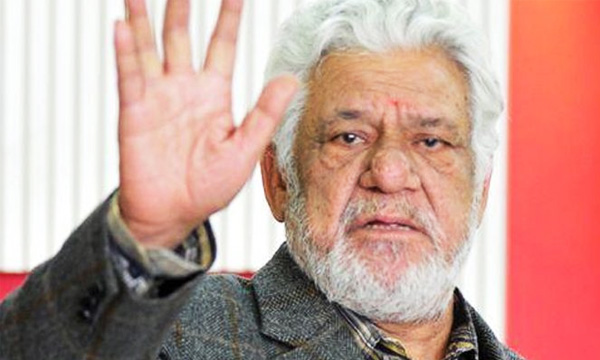 The veteran Bollywood actor, Om Puri died on Friday morning, leaving Bollywood's entertainment fraternity in shock. Earlier, the Mumbai Police registered it as a natural death but a preliminary report of the late actor's postmortem suggests that he did not die of a heart attack.
According to latest reports, Puri had allegedly sustained a sharp head injury after falling down due to him being under the influence of alcohol. The police are still awaiting the final postmortem report.
However, popular talk-show host, Aamir Liaquat took to BOL TV with some shocking revelations on Om Puri's case!
Giving a detailed account, the televangelist revealed that the Bollywood actor was allegedly murdered in his home! According to his report, Om Puri was found stark naked in his kitchen and was brutally beaten. What is more, he had a heavy wound on his head
Check out what Aamir Liaquat revealed about Om Puri's death on Bol TV!
https://youtu.be/UrkzZXWp-JQ
Even an Indian entertainment website, Lehren TV rolled out a similar report on Om Puri's death!
While Mumbai police have declared that Puri suffered a head injury, they have counted out the idea of any violence involved!
"We suspect that Puri died of heart-attack, however, it will be confirmed after viscera report. After suffering the cardiac arrest, he might have fallen causing the injury on his forehead. He was alone at home and there was no sign of forced entry. At this stage, we have ruled out the possibility of any foul play," said a senior officer of Mumbai Police.
In other news, it is stated that Om Puri was eager to meet his son Ishaan, just hours before his death!
"He poured a drink in his glass and waited for almost 45 minutes at Nandita's flat. But when they did not turn up, he took the glass and liquor bottle and started drinking in the car. After finishing the drink, we left," divulged producer Khalid Kidwai to Mumbai Mirror
Kidwai added, "I have given them a detailed account of whatever happened on Thursday. I have also told police that he desperately wanted to meet his son, Ishan, but unfortunately, it did not happen."
Seems like Om Puri's sudden death has created a big controversy in Bollywood! Let's see what is more to come out of the story.
 Stay tuned to Brandsynario for more updates!