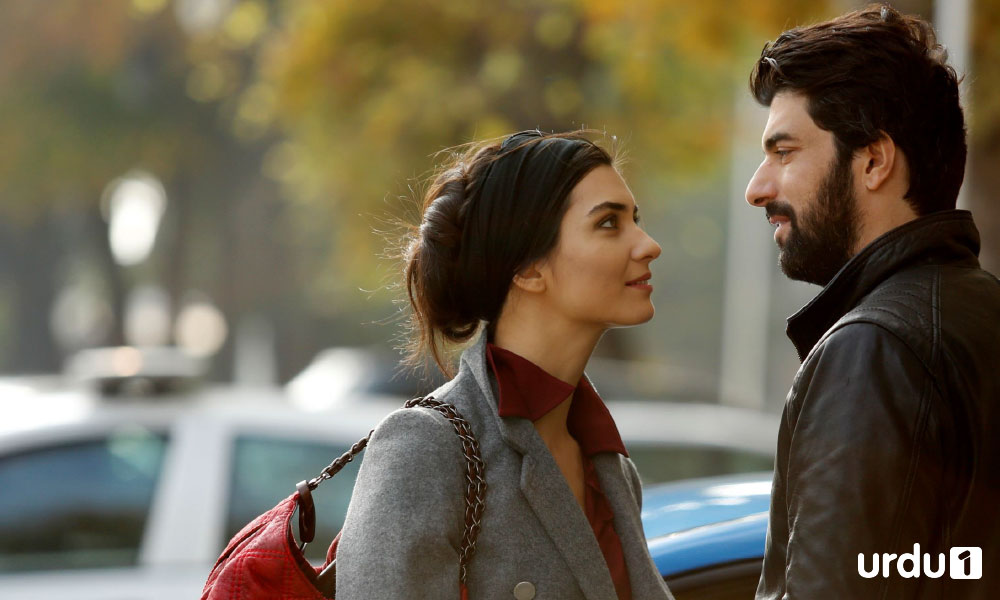 Following the incalculable success of the sensational Turkish dramas "Ishq-e-Memnu" and "Fatima Gul"; Urdu 1 is unleashing yet another thrilling tale from Turkey, Kaala Paisa Pyar to air from August 3rd, 2015, every Monday to Friday at 10 PM.
Undoubtedly, Turkish legends are all the rage in Pakistan and have received a warm welcome by the viewers of the nation. Eventually, we ditched the "Tulsi-Parvati" Indian plays to fall in love with the historical charm of Istanbul, the scenic beauties of Ankara and the cultural heritage of Izmir.
Now yet another popular tale of "Kaala Paisa Pyar" has graced the screens of Urdu 1. Originally "Kara Para Ask" in Turkish, the drama was rated as an ultimate hit of 2014-2015 and even made it to the headlines back in its homeland.
Watch the promo of Kaala Paisa Pyar here.
If you are looking for reasons to watch the epic tale, we can surely help you with that! Check out these top 6 reasons to tune into Urdu 1's new Turkish blockbuster Kaala Paisa Pyar.
1) An Untold Reality Based Story
Enough of those Turkish tales of the old Ottoman and the fables of the forbidden love. Kala Paisa Pyar is a reality-based story of detective Omer and the  designer Elif, whose fates get forever entwined by one night of a murder. Action and mystery coupled with romance and deceit; this exclusive intense combo in Kaala Paisa Pyar is bound to keep you glued to Urdu1 every night of the whole week.
Read more :Kaala Paisa Pyaar: Urdu 1's Global Blockbuster Comes to Pakistan
2) From the Makers of Ishq-e-Mamnu and Fatima Gul
There will hardly be a soul who has not watched the Behlul-Bither's deadly duo. Even our dads are aware of "Ask-i-Memnu" and have watched its re-runs along with the entire family. Equally popular was the rape victim's survivor story in Fatima Gul, its thought-provoking tale leaving us all awe-struck.
The makers of both these successful stories are the brains behind Kaala Paisa Pyar, making it a must watch drama!
Watch the OST of the drama here.
[fb_embed_post href="https://www.facebook.com/kalapaisapyar/videos/384636755064946/?__mref=message_bubble/" width="550″/]
3) The Return of Turkish Heartthrob Kareem from Fatima Gul
Remember the tall, handsome and broody Karim of Fatima Gul fame? Well,  he is returning to our T.V screens as Omer in Kaala Paisa Pyar.
The cross-country ladies magnet Engin Akyürek has been every women's celebrity crush when he debuted on our T.V sets back in 2013. It will be no less than a treat to watch him again after a long time in a fresh avatar of a police-officer.
4) Majestic Landscape of Turkey
Turkey is an enchanting kaleidoscope of stunning sceneries, beautiful landmarks and exotic locations. While we all have seen a lot of the magnificent nation, thanks to Turkish dramas, one still can not get enough of the breath-taking beauty that resides in the glorious place.
Kala Paisa Pyar will take us once again to spectacular sights of Istanbul and the snow-capped peaks of Van. A definite feast for the eyes!
[fb_embed_post href="https://www.facebook.com/urdu1tv/videos/vb.351811501531924/921985767847825/?type=2&theater/" width="550″/]
5)  International Award Winning Turkish Tale
Kaala Paisa Pyar has won every single Turkish award out of the 18 commendable nominations for the consecutive years, 2014 and 2015. Grabbing the title of "The Best TV Series Award "of 2014, the drama was no less than a mighty blockbuster and reaped a massive fan-base back in its home.
6) IMDb Ratings of 7.9
While Ishq-e-Memnu aced an IMDB rating of 7.2 and Fatima Gul ratings achieved a mark of 7.4, Kaala Paisa Pyar has surpassed both of them to reveal a shocking score of 7.9.
Now you and I both know, that this show is bound to be awesome! Leave your reviews in the comments below.