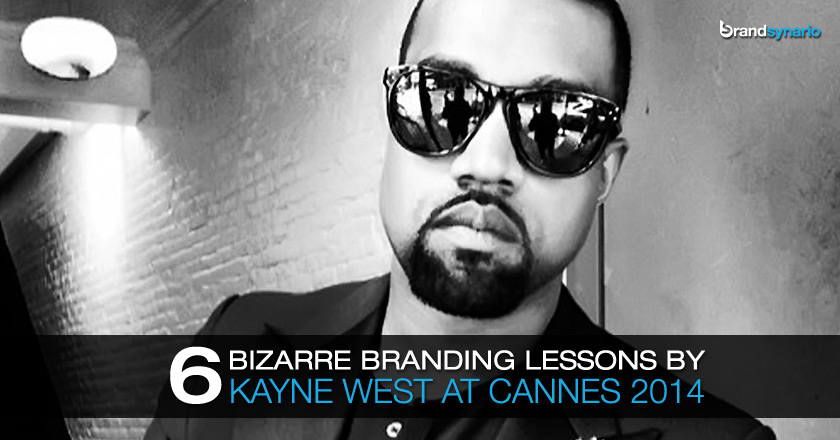 By Zoya Anwer
It seems that the creativity in the internet society is slowly dying out and something HAS to be done about it. Now this wasn't said by an intellectual person or by some great orator but,  by the newly married musician, actor and designer, Kayne West.
He addressed a panel discussion at Cannes Lions Creativity Conference with Steve Stout, founder of the famous ad-agency 'Translation' and Ben Horowitz, the co-founder of venture capital firm, Andreessen Horowitz
The artist began by stating: "I don't want to say these really big over the top statements that end up getting quoted."
Yet he did manage to say things that are to be learnt and are very much quotable. Here are some of them:
1) Samsung Isn't Impressive Enough
He said and we quote, "I'm not a big fan of Samsung". He also believes that he can be a better artistic director than Alicia Keys who is currently the director of Blackberry. "The reason I said I didn't like Samsung particularly is because throughout my entire life, because of how my parents raised me. I have to work with number one."
2) Instagram is Nice, but it Needs to be Redone
According to Kayne he once said to Kevin [Systrom], "why don't you let us redo Instagram?."
"Instagram is nice. It's nice looking. I'm not knocking it. But just in general, everyone spends all of their time looking at their screens or their phones. And just as a simple task, we could clean that up", he further explained his approval for instagram.
He revealed how he and his wife, Kim Kardashian spent four day on their wedding photo after their celebrity photographer, Annie Leibotivitz abruptly bailed out for outrageous reasons.

3) Time, not Brand is Luxury
He said that he dreamt of "raising the taste level of a generation" and said, "My goal in everyday life is to change the idea of luxury, time is the only luxury, it's not these brands which sell our esteem back to us."
4) Social Media is Noisy
Kayne said that the social media is very "noisy" and that gives plenty of time for brands to "incubate and grow into themselves". 

5) Kayne West Loves Apple and Idolizes Steve Jobs
He only believes in Number One and Apple is Number One hence, it is acquiring Beats by Dr. Dre and that Samsung is not quite Apple. He said this move is in contrast with Samsung's move with Jay Z.
His dream to help future generations is inspired by Steve Jobs, the man himself.
6) Internet is the New Rome
Though he used very clear words to describe how "ugly" internet currently is, he added, "Right here, right now we have enough people with sensibilities and connections to make that a beautiful place."
"Rome wasn't built in a day, the internet is our new Rome, but it's time for the best visual artists and content creators to be inspired."
He ended on the note of empowering these creative minds or to just damn your own self. Who knew Kayne West, known for his outrageous comments can talk some sense too?