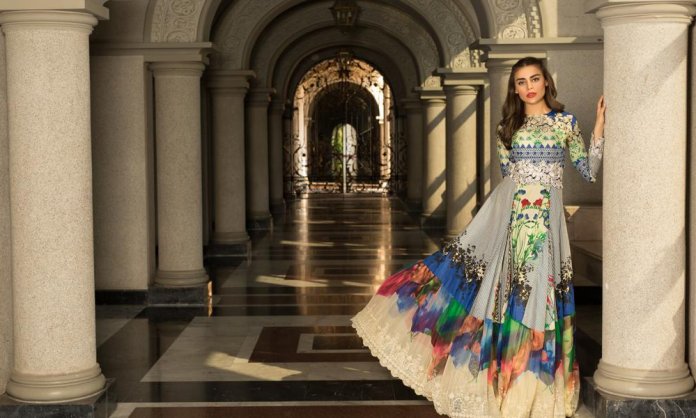 With a hint of a change in the season, come the glad tidings for summer and lawn fever grips Pakistan. Brands roll out their eye catching lawn collections and women begin their  shopping expeditions, aiming to bag the finest of the fabrics and designs.
While talking about lawn, Textile behemoth 'Gul Ahmed' is usually the first to come to mind. The brand makes it a point to bring out a successful lawn line every season and has one of the most lucrative in the fashion market.
The brand continues to be a favorite of its ever-growing clientele with its style statements, effective prices, and sartorial convenience.
Like every year, Gul Ahmed has aimed to raise the fashion game with its distinctive assortment of premium unstitched lawn suits, comprising of Swiss voile, pure silk fabric, digitally printed shirts and embroidered chiffon dupattas. Sophisticated prints and vibrant hues, revealing floral and abstract designs have added a veneer of glamour to the lawn collection of 2019.
We handpicked five designs from Gul Ahmed's Summer Premium collection that mesmerized us with their sartorial elegance and compelled us to showcase them this season.
Time to Glam up Your Summer Wardrobe
It's love at first sight with this funky and savvy, three-piece digital printed shirt.
Its embroidered black front highlights it's detailing with just the right blend of white, yellow and pink giving it a modern trendy feel.
You can pair it up with a blended chiffon dupatta and churn up a show-stopping lawn outfit, perfect for an outing with your friends.
Rock it Like a Diva This Season
Looking for something festive yet elegant?
This outfit in a summery azure color is bound to turn heads. The beat-the-heat, cotton printed shirt will remind you of the cool blue ocean.
Adding the perfect pomp to it with its floral silk dupatta and voila, the ensemble becomes just the right choice for a high-flying brunch with family or friends.
Look Fancy-Free yet Ultra Chic 
You can never go wrong or appear out-of-style with a white ensemble.
If you are eager to rock a fuss-free outfit and look like a prima donna while at it, then you must check out this modest design with delicate embroidery in red, green and black.
Keep it light with the screen-printed bottom and we bet, you have a dress good enough to be the boss lady for the day.
Flaunt Trendy Spring Colors That Are Easy on the Eye
Turquoise has become the trendiest shade for the season and you must include it in your wardrobe. The solid color appears fresh, lively and great on all complexions.
This turquoise shirt with heavy-white, traditional embroidery, lacquer printed chiffon dupatta, and sequined sleeves looks just right for a subcontinent summer evening. You can rock this sartorial choice at a romantic dinner date to unleash your inner fashion-forward women.
Semi-Formal Designs at their Finest
Summers are all about wedding parties and we all get tired of wearing heavy, blingy outfits.
If you are eager to ditch the over-the-top heavy 'joras' for a post-wedding bash, then Gul Ahmed's pretty Swiss Voile ensemble is a sight to behold.
With its intricate pink embroidery, embellished with pearls, the design becomes awe-worthy for any festive occasion. The embroidered dupatta with crotiate lace tulip shalwar gives it a chic finish, however, straight paints will do the trick as well.
If you want to be the first to rock the latest in Gul Ahmed lawn ensemble, you're in luck! Gul Ahmed has launched it's 2019 lawn collection exclusively online till the end of February with free all Pakistan delivery.