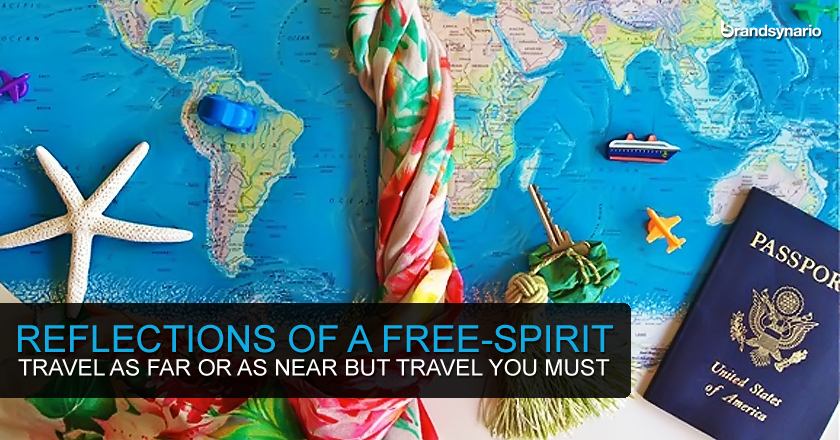 By Sarah Tahir
What is travelling but rediscovering the world? 
What is travelling but rediscovering yourself? 
What is travelling but a soulful journey, a venture into the wild;
to let go, fall, rise back up, learn and grow? 
Travelling is a wonderful way to find the hidden treasures of the world, to reflect upon the mysteries of life and to question your existing patterns of thinking.
Oh well, the thought of travelling always gets me a little carried away and brings out the poet in me. Disclaimer: Please don't take hidden treasures literally (Consider yourself very fortunate if you stumble upon Gold in Alaska or Rebel Diamonds in Africa) – I'm only referring to the beautiful places and people you get to know in the process.
"Wherever you go becomes a part of you somehow" says Anita Desai, world-renowned Indian novelist.
She couldn't have put it together more aptly. I really believe that all the places that we visit and all the people we meet leave an impression on us – lasting or fleeting, on a conscious or unconscious level, temporarily or permanently, they do and in the process, change something within us for better or worse. How we use that knowledge or perspective later on in life for self-improvement or the improvement of the community we live in, is entirely up to us.
So what makes people want to travel? Is it because they have too much money on hand and don't know where to spend it? Is it because they have to be a part of the annual ritual of family vacation? Is it out of boredom? Or is it to explore and make better sense of the world around them?
The latter is actually the right reason to travel. When you travel with an attitude to discover and explore a new place, it can be far more rewarding than travelling just for the heck of it. You don't necessarily have to have a fortune to be able to travel places, you only need the willingness to go places and a clever list of places to visit that fit into your budget.
Now the big question is, how exactly can travelling help you to discover, learn and explore:
• Learn about the new place – Appreciate the natural beauty and terrain of the place you're visiting. Every place has its own unique geography; those who are fond of nature have the keen eye to observe the novelties that their travel destination has to offer.
• Learn about the people & language – Travelling is a great opportunity to find new people to interact with, get to know their eccentricities, what makes them different from others as a nation, their basic etiquettes of interaction and the language they speak. Everyone has a story to share; the story of a person is part the story of the place he lives in.
• Discover new cuisines – Find out the most popular dishes that your destination has to offer. Every place has its own palate of taste and gives you a chance to take your taste buds on an adventure ride.
• Explore art, culture and history – The history of every place is embedded in their buildings, museums, monuments, art galleries and libraries. The evolution of the culture of any places gives insights into the psyche of the nation and what makes them tick. It's a fantastic way to unravel the mysteries of the past, to compare folklore with facts and expand your knowledge bank.
• Relax and unwind – Last but not least, find out what people of your destination do to relax during their leisure time, you might be surprised with the results that you find. They could be as varied as traditional dance, gazing the stars, tomato fight or having a simple meal with friends and family.
Whether you travel near or far, it gives you a chance to appreciate the finer things in life. It's not just a perfect way to take a break from routine but is also a blissful escape into another world with different realities than our own. It is a way to reflect on life and all that it brings to the table, to learn from the best practices and the mistakes of others and something that inherently become a source of new ideas. Ideas have a life of their own; they have the power to make or break a nation. Opening your mind to new ideas gives you the power to make a positive difference – in your life and in the lives of those around you.
So what are you waiting for? Get your backpack together and get moving! The world is your stage!