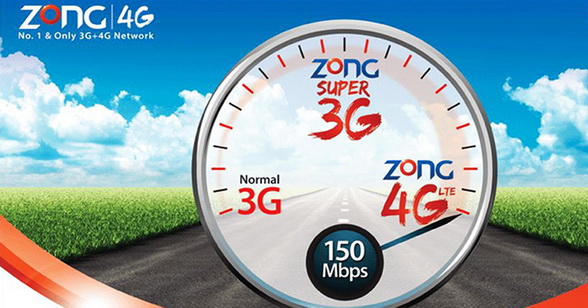 By Sarah Tahir
The students, small businesses, start-ups, frequent travelers, you, me and well anyone and everyone with a smartphone and a goal in life needs super-fast mobile internet.
Why? Because the world around us is being digitized and before we know it almost everything will be operable through a computer, or for that matter, your smartphone. Although for now this concept is in its infancy in Pakistan, but the fact that 70% of our population is below 25 makes for an exciting future given that we can provide them the right direction.
Already corporations are introducing technically innovative products and services in a bid to shift their focus on the millennials and the youth of today, which only strengthens my point of view. In time, we all will need a fast enough mobile internet connection to make good use of the big data.
Pakistan's internet landscape has been going through a tremendous facelift since 2000. The story of the internet in Pakistan is of unprecedented, at times contentious change, as the public has adapted to this mode of communication in a largely conservative society. 
The country has seen massive growth in the ICT and Telecom industry in the past decade with Pakistan Telecommunications Authority acting as the grand facilitator. Internet penetration in Pakistan is now approximately 15% of the population, with the country having 15 million internet users on mobile alone.  
All this growth has come about without the country having high-speed broadband connectivity in most areas (2.6 million broadband subscribers in 2013) with the masses having to rely on poor dial up connections or on the EDGE mobile connectivity.
But all that is set to change with the recent commercial start of 3G services in major cities after last year's 3G and 4G license procurement by leading telecos. This development is set to tap in to the very densely populated mobile user segment of the country (70% of the entire population ) and shall be harnessed to provide high speed internet to the masses.
These are exciting times for any average smartphone users, who previously felt handicapped during the recent smartphone trend as they could never get to pair their high-tech gadget with a high speed mobile internet on the go.
It was like having a peanut butter sandwich without the jam – downright boring, isn't it? The introduction of 3G and 4G is set to capitalize on these distraught consumers and offer them services which will let them get the maximum juice out of their gadgets.
An average 3G connection offers a download speed of around 21.1 mbps (as advertised by the companies) and the upcoming 4G LTE service by Zong is expected to reach download speeds between 65 – 71 mbps; mobile internet speeds that were unimaginable for us Pakistanis as recently as last year.
4G In Pakistan – Who Benefits the Most?
So who exactly can benefit from these awe-inspiring figures? In the opinion of Mr. Hasan Khan, assistant manager internet, Zong, "Every household will benefit from high speed internet, because the country shows a strong affinity with internet enabled devices. You can find a smartphone with almost every member of an urban household, along with a laptop, an internet enabled gaming console and possibly a tablet too. All these devices will be competing for the same limited bandwidth, and basic broadband services with slow speeds will increasingly become a major bottleneck. With growing urban families, where there is a significant number of people in a household, basic broadband will no longer be enough."   
Elaborating on Mr. Hasan Khan's statement earlier regarding every household being a beneficiary, let's start off with your average tech-savvy teen (btw, who isn't tech savvy now a days?) who shall be another benefactor of high internet speeds.
Their day to day activity includes downloading a lot of movies, and there's a huge time saving for them if they use the upcoming 4G LTE: it would 'theoretically' take less than 35 seconds to download a two-hour, high-definition movie, compared with 'approximately' 2 hours for the average high-speed broadband household.
And it does mean that they can stream a video or a football match from their smartphones or other devices (some sites require at least 6Mbps or more to stream HD content) without ever getting to see that spinning wheel icon of misery that means more wait and bugs us so much at the moment.  They can even have combined study sessions right from their homes using a group Skype video chat.
"But in certainty, small businesses and start-ups will benefit the most," said Mr. Babar Bajwa. How? Well, thanks to the speed and vigor of 3G and 4G connectivity, you don't have to worry about accessing or sending large files.
In fact, 4G LTE can even deliver a better, faster experience than many land-line broadband connections currently available in the country because it has plenty of bandwidth and, compared to previous-generation technologies, it has a low latency rate, which is the time it takes for all that data to travel through the network.
The lower the rate of latency, or delay in response time, the faster the interaction between device and the network it is on. According to a recent research, "The US has led the way on 4G and, according to a global study conducted by the American firm Arthur D Little, more than eight out of 10 US businesses surveyed (86 per cent) got more work done on the move with 4G. More than three quarters of US-based respondents (76 per cent) agreed that 4G has helped their firms innovate and jump ahead of the competition." This offers a huge insight into the type of boost businesses shall receive once 4G LTE hits the markets commercially.
Another group of beneficiaries can and should be the rural population of Pakistan, a class sadly ignored up till now as shown in a short video made by CMCC.
For example, doctors will be able to have live video conversations with patients in these rural locations, while at the same time receiving their health stats through applications on existing smartphones i.e. HealthTap. This practice is already famous across USA due to the high speed internet available to the masses and many medical phone apps have recently gained popularity that allows doctors to diagnose their patients through text messages or video-chat on smartphones .
Or think the movie 'Swades' which starred Shahrukh Khan, now imagine that same Shahrukh Khan sitting all the way in Houston, but advising the town folks over live video call and through the use of online manual and schematics to help build a running tube well.
Sounds far-fetched? Maybe, but with the innovative communications technology that Zong and its parent company is looking to launch in Pakistan, this is certainly a possibility.
We will be paying slightly more for the upcoming 4G LTE service but we'll certainly be getting more done in a day, and the value of that compared to those extra rupees make the switch a no-brainer, especially for individuals who are always on the go and need a super-fast mobile internet connection to stay in touch with their work, families and friends.