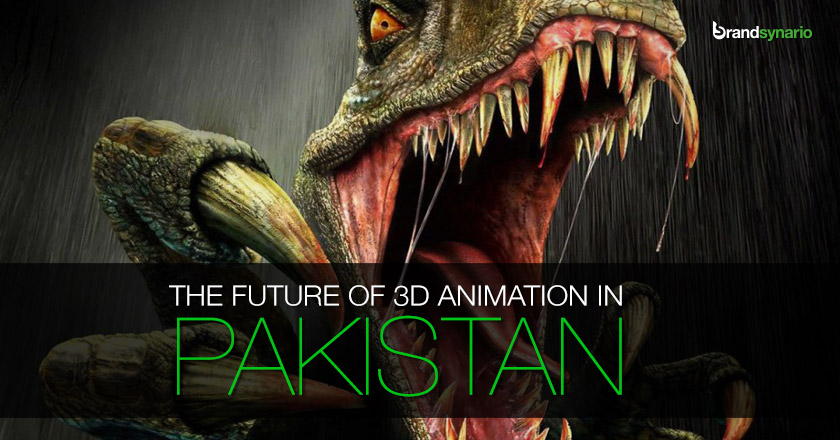 For ages, the creative souls of the world have strived to express and understand their existence, behaviour and environment through one medium or another. 
From cave drawings to renaissance paintings, from photographs to film and TV, they have used whatever means are available at their disposal to express their perception of the world.
The constant desire to add motion into photographs and advancement in technology led to the birth of films and movies and took us to the next level of storytelling – 3D Animation.
A single visual of a place or a person can capture a moment in time, convey its character, feeling, and may tell a story in a particular moment; it could be terrifying, beautiful or surreal but when we animate a series of visuals the result becomes MAGICAL.
It's strange to know that 3D art has been around for 30 years or so, but it is still young and thriving. 3D examples can be seen around everywhere; there is hardly any blockbuster movie that does not include a 3D based explosions, storms, tsunami, sci-fi vehicles, robots and creatures.
Avatar, the blockbuster sci-fi thriller utilized 3D art to create a hyper realistic jungle with trees, exotic plants, rivers, waterfalls and grass with the wind blowing through complex other phenomena.
There are tons of other movies such as Lord of the Rings, Matrix, the three musketeers, world war z, Hobbit, Life of Pi, and The Avengers that would not be as magical they are, without 3D technology.
3D is mostly associated with movies and animation; however its scope isn't limited to entertainment industry only. It is extensively used in advertising industries around the world to promote brands on billboards, commercials, magazine ads.  3D animation also plays a strong role in automobiles and architectural industry to visualize the future projects.
Thus, 3D is a unique form of modern art that let us enhance the visual experience of a story, which might seem incomplete otherwise. It provides us with the ability to create imaginary worlds and creatures, depict thousands of virtual soldiers in a battle or zombie apocalypse. 
3D INDUSTRY IN PAKISTAN
Pakistan's first ever million-dollar movie, Waar relied heavily on computer generated visual effects (VFX) to deliver mesmerizing shots that could be otherwise too risky, costly or impossible to achieve.
The role of 3D in Pakistan's advertising began with Ding Dong bubble's animated TVC that received mass appreciation and soon thereafter, every other brand started using 2D animation to acquire high perception among their consumers.
However, P&G's health care brand Safeguard stepped outside of the norms, and did something remarkably creative and introduced Pakistan's very own animated superhero named Commander Safeguard. 
As always, a trend started and every other brand caught on the bandwagon to create superhero for their product. Lifebuoy Germ Busters, Milkateers, Dettol Warriors, Baankay Miyaan and Burka Avengers are few of the notable examples.
The aforementioned projects proved that Pakistani 3D artists have the required talent to give tough competition to any international 3D production company. But then the question arises why the industry is still under developed in Pakistan?
To answer this question, we contacted Tariq Mehmood, CEO of a budding 3D production company, Creativesip. Tariq has been associated with the industry for more than a decade. During this time he has worked for multiple clients based in UAE and Europe. 
While sharing his thoughts on the plight of 3D industry in Pakistan, Tariq said,
"3D is an ignored industry in Pakistan so far but the trends are now changing. People are now choosing 3D as a profession. In Europe you can't find a single TV program which has been produced without the help of 3D imagery. National Geographic channel uses massive amount of 3D renders in their scientific illustrative videos. Discovery's every next Galactic documentary is produced entirely in 3D.
Unfortunately, the circumstances of our country are getting worse day by day. If you want to learn 3D you can't just read theoretical books or listen to podcasts on your mobile. You need to have a computer in your access, and that requires proper electricity and high speed internet connection."
Highlighting the role of professional institutes in Pakistan, Tariq further added, "You can't just rely on the training given by Pakistani institutes, you have to extend your knowledge according to the latest versions of the software and for that a fast internet connection is a pre-requisite. Unfortunately Pakistan's government has failed to fulfil these two essential requirements."
According to Tariq, there is a common misconception amongst production houses that people don't want to see complex scenes but the movie Waar has proven all such misconceptions wrong. He also added that audience thrive on novelty and uniqueness; hence Pakistan's media industry should never compromise on the quality of production.
Despite some big names like Mukeem Khan who has worked on "Final Fantasy" and Meer Zafar Ali, who has won three Oscars for his work in Golden Compass, Life of Pi and Frozen, 3D artists aren't considered thorough professionals in Pakistan; the skill is treated more as a hobby.
Sharing his opinion on the barriers that 3D artists face in Pakistan, Tariq said,
"There are plenty of 3D artists who have migrated from Pakistan and are doing extremely well in International companies. In Pakistan, 3D artists are pretty much ignored. They don't get proper education, recognition or rewards for their skills and eventually either opt for another country or change profession altogether."
There is a tremendous amount of effort put forth by private production houses such as Post Amazers, Sharp Image, H2O, Creativesip, Ice Animation and Creative Village to establish the 3D industry in Pakistan.
WHAT LIES IN THE FUTURE
The process of creating a 3D artwork involves a work flow from concept to completion. It includes various aspects, theories and concept of traditional art. Such as form, colour theory, sculpture, architecture, texture, lighting and composition.
"We need to build 3D institutes and fulfil the basic requirements of uncut power sources and internet connections.  3D  professionals should be treated with respect and recognition. It is high time that we realize that 3D animation is not a hobby anymore. Also, the quality scale of overall production needs drastic improvement."
The rapid shift from conception to execution make 3D one of the most vibrant and exciting forms of art. The changing technology pushes 3D artists even further to increase their knowledge by using newer tools and workflow to keep themselves updated.
This even complicates the situation furthermore for students learning 3D in Pakistan, making it difficult for them to consider where to begin and what direction to take in order to expand their knowledge.
There are tons of resources available online devoted to the learning of 3D art, such as online forums (cgsociety.org,creativecrash.com), magazines (3D Artist, 3D world), online classrooms (lynda.com, digitaltutors.com,thegnomonworkshop.com, ead3d.com, fxphd.com), with hundreds of videos on specific 3D software and techniques.
About Tariq Mehmood:
A veteran in the 3D industry, Tariq Mehmood is the CEO of Creativesip – a 360 degree solution provider company for all 3D and visual effect requirements. Under his guidance, his company has executed some remarkable work for foreign based clients in Dubai and Europe. Looking to tap into Pakistani market now, Tariq is all set to establish his name in Pakistan's growing media industry. He can be found at the following email addres:info@creativesip.net