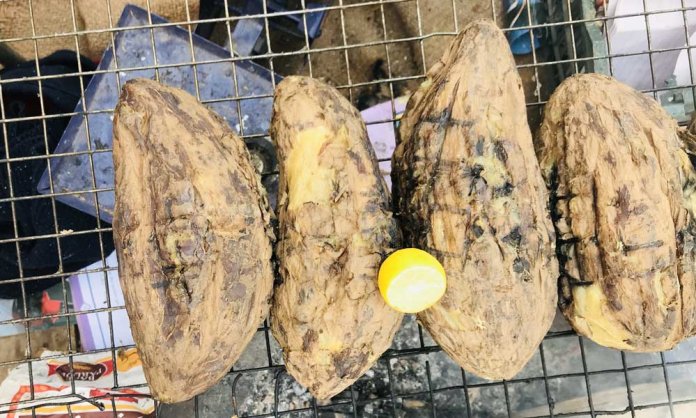 Winter is a special time of the year when the enjoyment in eating warm food doubles. You either enjoy the crisp cool outdoors or the indoors tucked in a cozy bed under your warm blanket.
During the festive season, our intake for hot coffee, warm fluids, and fresh-out-of-the-oven delicacies increase.
Winters come with their own seasonal foods and sweet potatoes is one such vegetable that can be enjoyed in many different ways. It is not only delicious but the starchy root vegetable is also nutritious.
If you're out and about and need to refuel, take a break from shopping or are craving something sweet, roadside sweet potatoes are there to save the day.
Not EVERYONE knows that sweet potatoes are a delicious healthy alternative to junk food.
Here are 5 Benefits of Sweet Potatoes
High Nutrition
Rich in carbohydrates and beneficial for the eyes, skin, and nails, the vitamins help our body to do the necessary functions in our daily life.
Beta Carotene
Rich in beta Carotene, it protects the body from free radicals and lowers heart disease and cancer risks whilst supporting the immune system.
Carbohydrates
Carbohydrates are the main source of energy for the body. They help fuel your brain kidneys, heart muscles, and central nervous system.
High in Magnesium
Magnesium helps in relaxation, de-stressing and in depression, headache and mood disturbances. The mineral also helps the heart to maintain a healthy rhythm.
3 Way to Enjoy Sweet Potatoes
Baked Sweet Potatoes
Step 1: Preheat the oven to 425 degrees. On a sheet now, prick sweet potatoes all over with a fork.
Step 2: Bake till tender, 40-50 minutes.
Step 3: Let it cool and you're good to go
Mashed Sweet Potatoes
Step 1: Keep a pot of salted water to boil.
Step 2: Add sweet potatoes and cook for around 20 to 30 minutes.
Step 3: With the help of an electric mixer on low, start blending them
Step 4: Add milk about ½ cup at a time.
Step 5: Add maple syrup and butter to taste.
Step 6: Blend until smooth, serve warm.
Sweet potatoes fries
Kind of French fries but sweeter than the white potatoes but worth it.
Step 1: Add peeled sweet potatoes.
Step 2: Boil for about 4 minutes.
Step 3: Remove from water and cut into ½ slices
Step 4: Melt butter in a large frying pan over medium heat
Step 5: Add sweet potatoes and fry until golden.
https://youtu.be/BVFWh93f20g
Don't forget to tell us in the comments:
What's the best way to eat sweet potatoes as per your opinion?
What was the most surprising benefit that you found in our article?
Stay tuned to Brandsynario for more news and updates.
---
Contributed By: Rabbiya Munir Kapadia