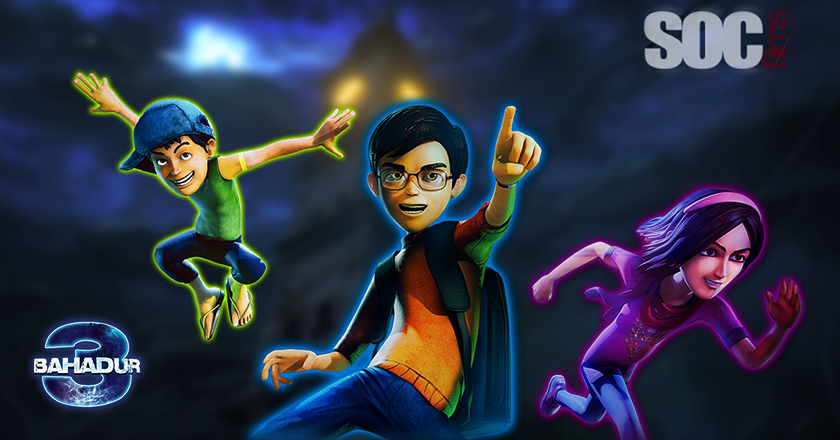 After successfully launching animated movie, comics and a website, Waadi Animations has announced free 3 Bahadur smartphone video game for android and iPhone users.
The '3 Bahadur' official smartphone video game is currently available to download from Google Play and will be available on the iTunes App Store later this month. This is the first time that any Pakistani movie has taken the initiative to launch a video game before the launch of the movie. 
A brainchild of Oscar-winning director, Sharmeen Obaid Chinoy, the movie video game provides a fun-filled yet challenging experience to the players as they take on the role of movie's key characters, Kamil, Saadi or Amna to defeat the thugs of Roshan Basti.
The game comprises of 5 levels, players will encounter different thugs and battle it out in exciting missions in hopes of restoring peace to the colors.
Sharmeen Obaid Chinoy, CEO Waadi Animations, said,
"All of us are getting more and more familiarized with 3 Bahadur's young heroes, Saadi, Kamil and Amna, as well as the menacing overlord Mangu and his band of thugs. Now, for the first time ever in Pakistan, we are creating a game to be released with the movie. This game will allow children to interact with their favorite characters on their tablets and cellphones!" 
Each character is equipped with unique super powers which players can use to defeat enemies encountered during their progress through the video game.
The game's core objective is the defeat of Mangu at the game's last level to finally restore peace to Roshan Basti.  The official '3 Bahadur' smartphone video game has been developed specifically by software house Pi Labs and Artboard.
The movie's story revolves around eleven-year-olds Amna, Saadi and Kamil who set out to save their community from the many evils that plague it. The film is a fun-filled journey of taking responsibility, fighting back and finding support and love in the most improbable of places.
Pakistan's first full-length animated movie is all set to hit the theaters on May 22nd, 2015 across Pakistan.
Watch the trailer below: