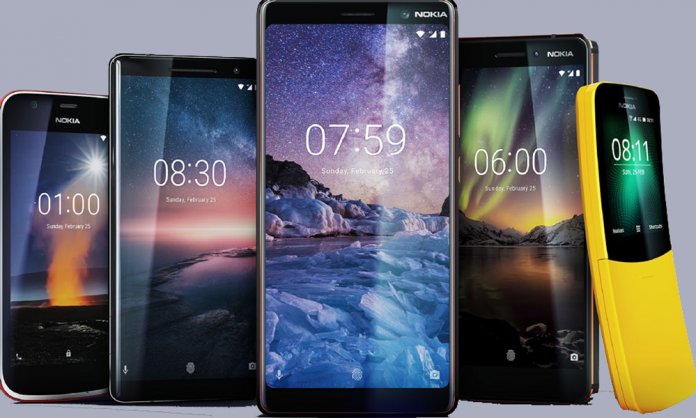 HMD Global, the home of Nokia phones, today announced four new additions to its award-winning portfolio of Android smartphones – Nokia 8 Sirocco, Nokia 7 Plus, new Nokia 6 and Nokia 1.
Delivering all the craftsmanship you expect from a Nokia phone, each new smartphone offers durability and reliability as standard, with the range setting new benchmarks in materials and design.
Furthering its promise to a pure, smart, secure and up-to-date Android experience, HMD Global also announced it is to become the first global partner to have a full suite of devices selected into the Android One programme by Google. The unwavering commitment to delivering a pure, secure and up-to-date Android experience has ensured Nokia smartphones were a natural fit for the global programme.
In addition to these stunning new Android smartphones, the iconic Nokia 8110 is reloaded, delivering 4G connectivity, apps including Google Assistant, Google Maps, Google Search, Facebook and Twitter, and the return of the slider phone.
Pure, secure and up-to-date reinforced with Android One commitment
Three new Nokia smartphones – the Nokia 8 Sirocco, Nokia 7 Plus and the new Nokia 6 – join the Android One family, offering a high-quality software experience designed by Google. Each phone will stay fresh over time with the latest AI-powered innovations to the highest grade of security from Google.
With a pure Android installation, Nokia smartphones come with no unnecessary UI changes or hidden processes that would eat up battery life or slow them down so you can enjoy your new phone for longer. Each of the new phones comes with a limited number of pre-installed apps so that you'll get more storage space, as well as the latest innovations that help you stay ahead of the game every day.
By shipping with Android Oreo™ out of the box, you'll be able to enjoy the latest features, including Picture-in-Picture for multitasking, Android Instant Apps to discover and run apps with minimal friction, 60 fantastic new emojis and battery-maximizing features like limiting background app use.
Introducing four new Nokia Android smartphones and expansion of the portfolio
Nokia 8 Sirocco: an ultra-compact powerhouse for the fans
Inspired by the rich design heritage of Nokia phones, the Nokia 8 Sirocco's elegant design, and compact style is the ideal blend of precise craftsmanship and purposeful innovation. Delivering powerful storytelling features including enhanced Dual-Sight, ZEISS optics and carefully tuned acoustics with Nokia spatial audio, the Nokia 8 Sirocco is an ultra-compact powerhouse and our most beautiful smartphone to date.
Its curved glass finish envelops a precision-crafted stainless-steel frame to deliver a fusion of strength and beauty. Just 2mm thin at the edge, the Nokia 8 Sirocco combines a curved edge-to-edge pOLED 2K 5.5-inch display with smaller bezels and molded body curves to create an ultra-compact profile.
Its stainless steel frame is 2.5 times stronger than 6000 series aluminum, and its 3D Corning® Gorilla® Glass 5 is robust enough to endure life's everyday knocks. Luxuriously weighted and perfectly balanced, it feels more secure in your hand thanks to the improved grip given by the dual diamond-polished stainless steel frame.
Now capture every detail thanks to the Nokia 8 Sirocco's dual rear sensors with ZEISS optics that combine an ultra-sensitive, wide-angle primary camera for impressive low-light performance and a secondary 13MP sensor with 2x optical zoom. And with Pro Camera mode you get full manual control over every picture you take, helping you capture photos like a pro.
Nokia 7 Plus: the flagship hero for everyone
Made for creators to deliver stunning content, the Nokia 7 Plus has the screen, power, design, and features to make it a true hero in our smartphone range. Combining innovative optical hardware and imaging algorithms, the Nokia 7 Plus captures moments into photos that are true to life.
With enhanced Dual-Sight, dual rear sensors with ZEISS optics combine an ultra-sensitive 12MP wide-angle primary camera for excellent performance in both low-light and extra bright conditions and a secondary 13MP camera that delivers 2x optical zoom for the moments when you wish you were closer.
To enable you to capture and enjoy more content for longer, the Nokia 7 Plus is backed by the powerful Qualcomm® Snapdragon™ 660 Mobile Platform. It's been optimized and integrated for maximum performance and battery life, even when you are broadcasting your #Bothie videos live on Facebook or YouTube. Optimised to extract every bit of juice from the already powerful 3800 mAh battery, the Nokia 7 Plus delivers an amazing 2-day battery life.
Its gently curved back and slim edges give you a big-screen experience in a comfortable, neat package. The vivid 6-inch 18:9 Full HD+ display makes the Nokia 7 Plus perfect for browsing, social media consumption, gaming and entertainment with more content in the same width as a traditional 5.5-inch display device.
The New Nokia 6: our award-winning phone just got even better
Building on the success of its predecessor, the New Nokia 6 packs even more powerful performance and great new features in a more compact, durable body. Over 60% faster than its award-winning predecessor, it now offers enhanced Dual-Sight, ZEISS optics, USB-C fast-charging, a more compact screen-to-body ratio, Nokia spatial audio and pure, secure and up-to-date Android Oreo™.
The New Nokia 6 takes the original's precision craftsmanship to the next level by combining a unibody, made from a solid block of 6000 series aluminum, with an 11-hour two-tone anodizing and polishing process. And by uniting a sculpted 2.5D display with damage-resistant Corning® Gorilla® Glass, the New Nokia 6's compact and refined body is built to last.
Our engineers have integrated the Qualcomm® Snapdragon™ 630 Mobile Platform to deliver fast and smooth performance alongside great day-long battery life.
Nokia 1: A complete Nokia smartphone experience, accessible to everyone
The Nokia 1 is a breakthrough inaccessible technology, delivering smartphone essentials with the reassuring quality you expect of a Nokia phone and a refreshingly familiar design to fans around the world. Giving more people access to technology, it comes with Android Oreo™ (Go edition), a version of Android optimized for devices with 1GB RAM or less.
The Nokia 1 is designed to be smooth and responsive, with full access to the Google Play™ Store so you can find all your favorite apps from WhatsApp, Facebook, and Instagram to mobile banking while also highlighting apps that are optimized for Android Oreo™ (Go edition).
Featuring the iconic 'Nokia smile' in a fresh new package, you can give your Nokia 1 a makeover thanks to the popular Xpress-on covers, available in a range of vibrant colors. Simply click on and off in seconds to express your personal style with these exchangeable covers.
Each cover has been built with the same precision and attention to detail as the phone's original cover. Inherently colored, the tough two-tone polycarbonate cover is ready to take on everyday knocks and bumps with its durable design.
For the Originals: Reloading Nokia 8110
Reloading the legendary Nokia 8110, this 4G feature phone comes complete with the iconic curved slider design. Giving you the chance to switch off, have fun and relax with the knowledge that all your smartphone essentials are there when you need them.
With a familiar and easy to use interface, it features intuitive tactile mechanics, with slide to answer and end calls, as well as an addictive helicopter style spin on its axis. Nokia 8110 comes with the craftsmanship you expect from a Nokia phone, delivering durability and reliability as standard. Nokia 8110 delivers crystal-clear VoLTE calling and is perfect for anyone who wants an iconic 4G feature phone or a companion phone.
With access to an app store, for favorites like Google Assistant, Google Search, Google Maps, Facebook, and Twitter, send and receive emails or import your contacts and sync your calendar with Outlook and Gmail. To keep it running flawlessly, the Nokia 8110 features the Qualcomm® 205 Mobile Platform. And yes, it comes with a revamped version of Snake.
Florian Seiche, CEO of HMD Global, said:
"This time last year, we started our journey with huge expectations from fans and a massive responsibility to deliver on the legacy of one of the most innovative brands in our space. Since then we have reintroduced well-loved icons, forged partnerships with friends old and new and delivered our pure, secure and up-to-date Android experience across our smartphone portfolio. Last year we shipped over 70 million Nokia phones.
"As we've expanded our portfolio we've always maintained one vision: to deliver great Nokia phones that live up to the values that our fans expect. It has been an exhilarating time and as we look ahead, we plan to build on our success by expanding our portfolio and giving consumers a wide range of Nokia phones they can love, trust and rely on."
Juho Sarvikas, Chief Product Officer of HMD Global, said:
"Today, we are delighted to announce the expansion of our range with the introduction of five new devices, setting new benchmarks in smartphone design with Nokia 8 Sirocco and delivering our most accessible smartphone to date in Nokia 1.
"Through these new devices, you'll see our innovative approach to engineering and our strong legacy in imaging coming to the forefront in collaboration with ZEISS. And you will recognize our best in class materials led the design and the distinctive finish throughout the portfolio which delivers all the reliability and durability expected of a Nokia phone.
"We pride ourselves on making smartphones that address real-world needs. Our commitment to pure, secure and up-to-date Android is core to our strategy and is loved by consumers. Today, we take that commitment to a deeper level by becoming the lead partner for the Android One programme globally, delivering an experience that is endorsed by Google."
Pekka Rantala, Executive Vice President & Chief Marketing Officer of HMD Global, said:
"A smartphone is an everyday partner and something people need to know they can rely on. Last year we promised that we would deliver on all the hallmarks of a true Nokia phone experience and that we would live up to the trust people have in the Nokia brand on phones.
This is why we are so excited to join the Android One programme, it is an important step in keeping this promise. We believe that after today's additions to our phone portfolio consumers around the world can truly find their own Nokia phone that they can rely on."
Jamie Rosenberg, VP, Business & Operations, Android & Google Play:
"Android One is our flagship partner programme, and this comprehensive line-up of new Nokia smartphones represents our biggest partnership to date. Now, users around the world can find the perfect device to fit their needs and know they're getting a high-quality hardware and software experience that's smart, secure, and simply amazing."