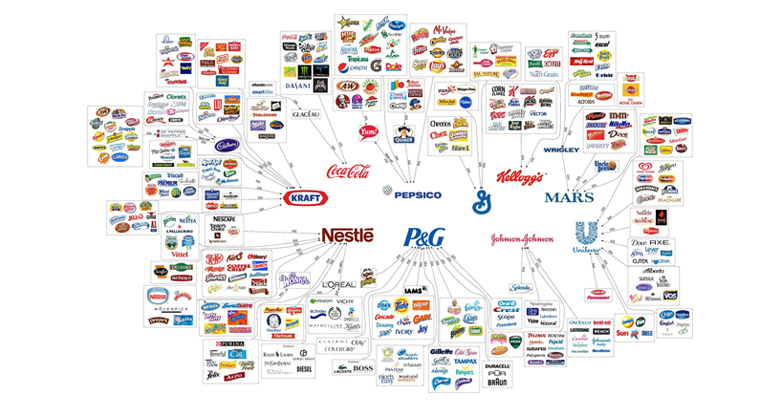 The urban legend that corporations have relieved governments and politics from ruling over countries seems not that 'legendary' after you go through this chart from Reddit.
The chart which goes aptly under the caption, "The Illusion of Choice', illustrates how we think we have a choice in selecting what to eat or wear, but how we end up buying something from the same company, but under another name.
The ten corporations under discussion, own some of the more renowned brands of our time, thus, creating a funnel-affect when it comes to consumer choices in product selection.
For instance – when you have to choose a quick fast food joint to go to (and if you happen to be a Coke fan and thus repel Pepsi) it doesn't matter if you choose KFC or Pizza Hut or even Taco Bell.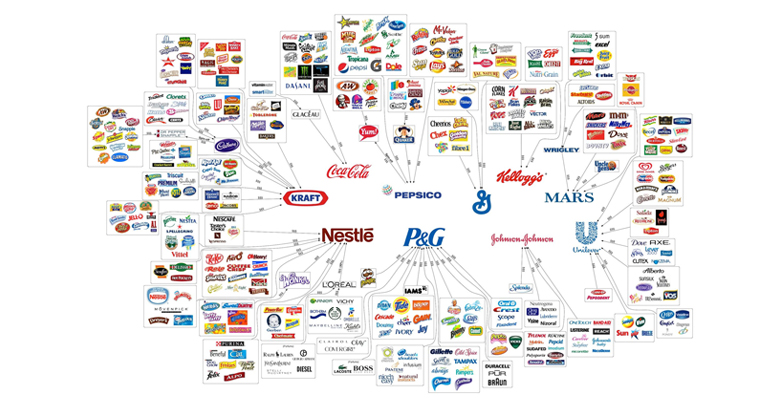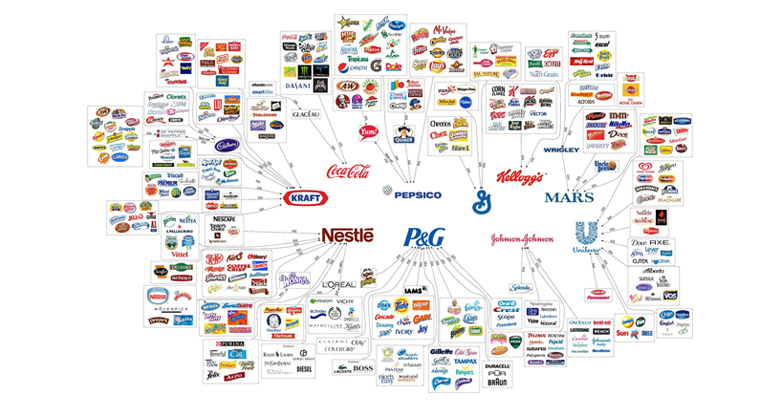 Better yet, it won't even matter if you drop the three and decide to settle in for snacks such as Lays, Ruffles and Doritos or you get the old Quaker Oat out and decide to stay in the night. Rest assured you have stayed in the web casted by the giant "Pepsi Co." – in essence every aforementioned brand is owned by PepsiCo.
It is worth noting here that the top ten-brands may not directly own the child brand but the relationship of the two may reflect a strategic partnership that would imply an ownership. Yum Brands owns KFC and Taco Bell. The company was a spin-off of Pepsi. Hence, all Yum Brands restaurants sell only Pepsi products because of the partnership with the giant soda-maker.
Amongst the ten-headed Lucifer (corporations), one head is Procter & Gamble (P&G). The world's largest advertised brand includes everything from clothes washing powder to toothpastes, from diapers to high end lavish fashion accessories.
According to a research P&G alone serves a whopping 4.8 billion people around the globe.
Nestle – famous for dairy products and chocolates – owns more than 8000 brands worldwide. Its network is spread in more than 86 countries of the world, with their man-power reaching a colossal figure of over three million employees.
Nestle also owns brands like L'Oreal, baby food giant Gerber, clothing brand Diesel, and pet food makers Purina and Friskies along with partnerships with Lacoste and BOSS.
Unilever is one more name from the ten-giants.
It serves over two billion people around the globe limiting their choices to its self, whether they buy Dove or Sunsilk, Vaseline or St. Ives and AXE or the other 395 brands the company owns.
Unilever earns more than 75% of its revenue, from the 25 largest brands from of its entire portfolio that includes more than 400 names in total.
(Disclaimer: The chart represents the research by 'Reddit'. It is a mix of networks. Parent companies may own, own shares of, or may simply partner with their branch networks. For example, Coca-Cola does not own Monster, but distributes the energy drink. BrandSynario holds no ownership over the content or claim its up-to-date nature)