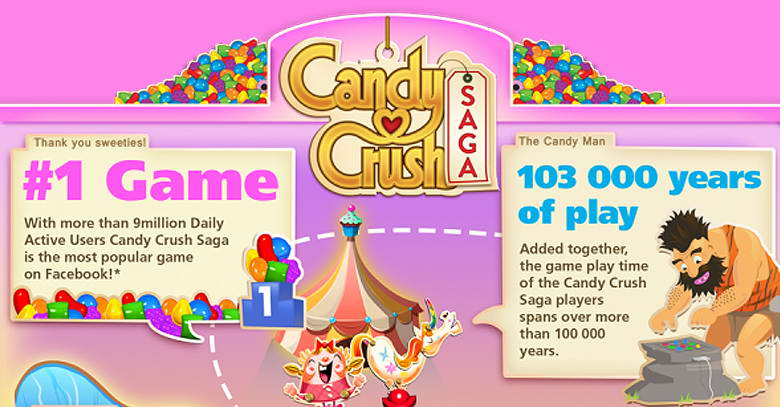 The game Candy Crush Saga has become a brand and the latest addiction on Facebook. It was released on Facebook in April 2012 and then released for smartphones in November 2012.
The addictive game, which has a huge number of dedicated players across the world, asks the users to match candies to score points and complete levels or lose a life. Gamers just get five lives at one time, so to continue playing, players either need to hold up for 30 minutes or have Facebook friends send more lives, or purchase new lives.
Following are some interesting facts about Candy Crush Saga that you'll really want to know:
CANDY CRUSH IS FACEBOOK'S NO.1 APP
Yes, Candy Crush Saga ranks number one amongst the entire games available on Facebook. It is the most played game on Facebook with 6.7 million active users, 69% of which are women.
THE ADDICTIVE APP ROUGHLY MAKES $ 633,000 PER DAY
Candy crush saga makes a lot of money per day. It is estimated that this addictive app roughly makes $ 633,000 per day which results in more than $ 1 million over a couple of days and more than 230 million dollars every year.
THE GAME IS MOST PLAYED IN HONGKONG
A study says that Candy Crush is the most played game in Hong Kong as this game is played by every seventh person in Hong Kong on a daily basis.
CANDY CRUSH HAS BEEN FEATURED IN A MUSIC VIDEO
Being the most popular among all the games, Candy Crush Saga has also made an appearance in a music video by Psy.
THERE ARE MORE THAN 436,000 PHOTOS TAGGED #candycrush ON INSTAGRAM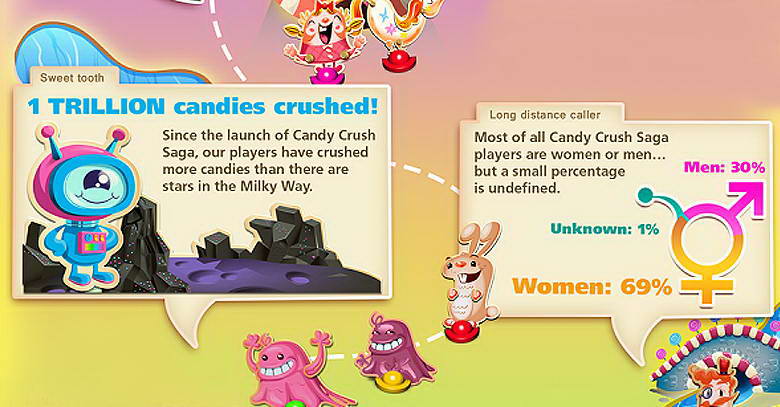 The game is not just popular on Facebook but also on Instagram as a lot of pictures on Instagram feature hashtags (#) with CandyCrush.
PEOPLE ACTUALLY SPEND CASH TO GET LIVES, MOVES AND BOOSTS
A 14-year-old boy spent $ 4,300 to get extra moves and boosts on Candy Crush Saga. The story doesn't end here; people are so addicted to this app that they make changes to their date and time settings on phones to get lives before time so that they could complete a level on Candy Crush.
CANDY CRUSH HAS 132.9 MN ACTIVE MONTHLY FACEBOOK USERS
The phenomena, addiction, comes into play when you get to know that candy crush has 132.9 million monthly Facebook-connected users who play Candy crush on a daily basis. This is more than a 10th of Facebook's 1.15 billion monthly active users.
Top 5 Pakistani Mobile Games More Addictive than Candy Crush!
UK REHAB HAS OPENED A REHABILITATION CENTRE FOR THE ADDICTS
The Candy Crush addiction is so bad that the authorities in the UK have opened a rehabilitation centre for the addicts. This receives as many as 100 inquires per month and costs $5,000.
10 MILLION DOWNLOADS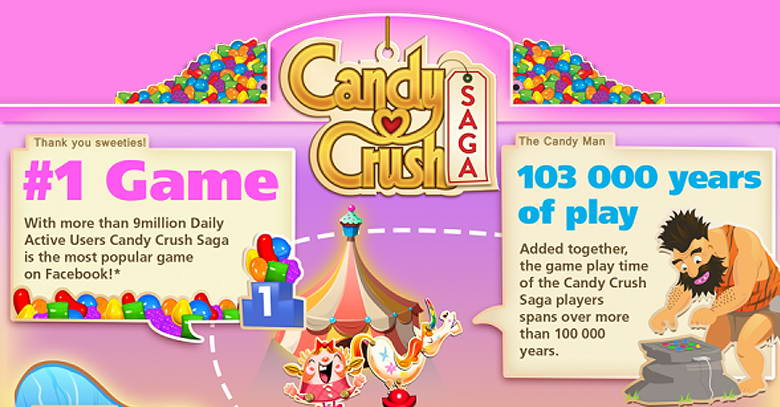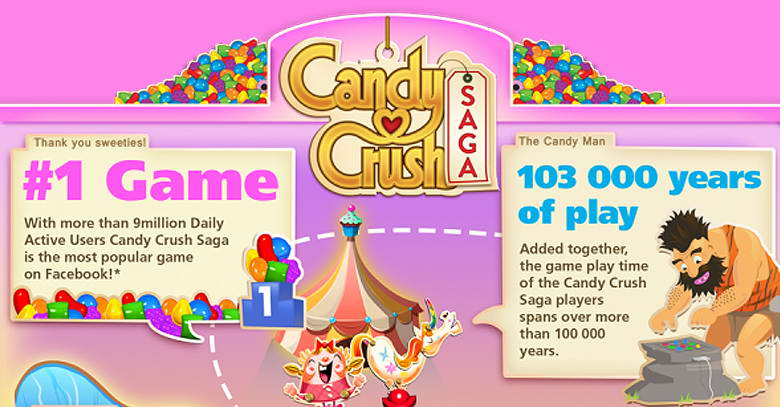 In December 2012, candy crush saga was downloaded to 10 million mobiles. This amount is very rare for any of the Facebook game application.
CANDY CRUSH HAS EVEN REACHED ANTARTICA
Candy Crush has reached Antarctica, the most desolate place and It's reported that three users use this app in Antarctica.