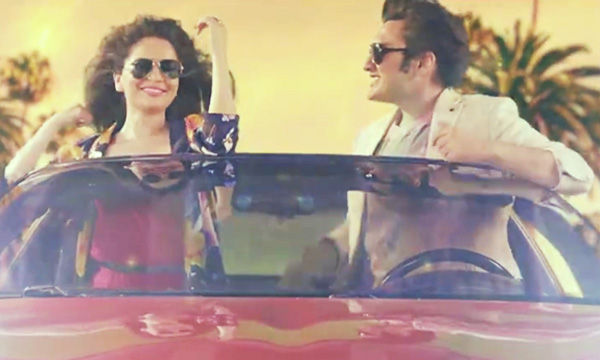 Uzair Jaswal's Sajna, released this Eid, has failed to impress the audience, in spite of a strong styling team and an acclaimed director to back up the video. Not only Uzair Jaswal's latest song lacks good lyrics but the video is equally senseless.
Featuring Jaswal, along with Armeena Rana Khan, of the Bin Roye fame and Osman Khalid Butt, the video has been directed by renowned director, Yasir Jaswal, who fails miserably at his latest direction.
Read More: Uzair Jaswal Goes Bollywood!
The song Sajna is sponsored by New Yorker Pizza and it makes sure the audience knows it. The video begins with the quote "A Bad Pizza Can Ruin Your Day" from the sponsor and looking at the unappealing pizza and its pointless presence in the video, apparently it can ruin a good song too.
The first 3 minutes, might we add completely dispensable few minutes of the video, features Osman Khalid Butt, receiving a "Sajna" pizza, by mistake, with special toppings.
As he moves on to devour the unappetizing pizza, music starts blaring in the background, lamps start flickering, till he switches on the TV, only to see himself featured in the music video onscreen.
Read More: Uzair Jaswal's Exclusive Interview With Brandsynario
The song finally starts after three long minutes of bad pizza advertising, only to disappoint us even more.
Featuring Uzair Jaswal, singing and grooving to a badly composed song, and Armeena Rana Khan, with a bad retro perm, the song continues to go downhill in different backdrops ranging from Miami roads to basketball court to zombie apocalypse to a dracula attack in 'Motel Transylvania'.
We also see glimpses of Osman Khalid Butt throughout the song, bobbing his head to the music and a few of Khan's and Jaswal's sidekicks mimicking their steps.
Don't get us wrong; we love Jaswal's previous work but this song could definitely have done well with better direction and lyrics and delivered the 80's retro feel that it was originally intended to.
Watch Uzair Jaswal's Sajna video and let us know what you think:
[fb_embed_post href="https://www.facebook.com/UzairJaswalMusic/videos/vb.73727117456/10153441372802457/?type=2&theater"/]