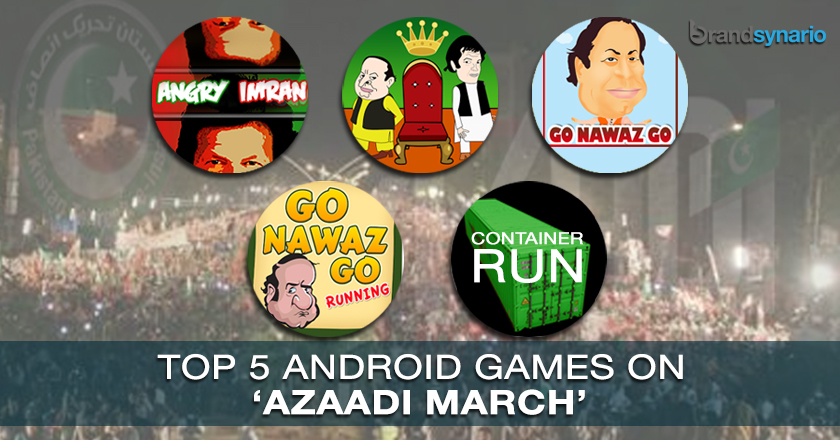 The Pakistani media, social and news both, have been abuzz with the Azadi March since the past whole month.
While there has been a lot of serious collateral damage on both sides of the revolution, there is a certain level of hilarity surrounding this hoopla too.
As the whole idea of this revolution brings hope of a better Pakistan, the game developers have decided to entertain everyone with some fun Azadi March games.
Here are our top 5 offline Azadi March game picks:
1. Angry Imran

Developed by Creatrixe, this game is for Angry Bird lovers. It requires the player to use Mr.Khan's face as a projectile, to hit and kill the faces of renowned politicians in power, strategically placed amongst wooden and metallic beams for protection (it's ironic how the set up depicts the real situation so well).
The game has 5 levels, based on the major cities of Pakistan, starting with Lahore. As you win each level, you get to proceed to a new city.
Each city level features faces of politicians of the particular area as targets. For example, In Lahore, the targets are Nawaz Sharif, Shahbaz Sharif and Chaudry Nisar and in Karachi, are Altaf Hussain, Asif Zardari and Mustafa Kamal. 
The good part about the game is that it is advertisement free and has an option for donating money to Shaukat Khannum Memorial Hospital. The game has quite good graphics and is easy to play. 
2. Container Run

This particular game, by Value Apps, starts with a dancing Imran Khan. There is no sound to the dance and if you are waiting for it to end to start the game, don't.
You need to tap the screen to view options to start the game. The game is similar to Subway Surfer, with an Imran Khan cartoon, running, collecting coins and avoiding crashing into containers and road blocks. There is no way to know how to play the game, especially if you have not played Subway Surfer.
To play, you need to tilt your phone to move sideways and tap to jump. There is also an option to select a fire weapon and burst the obstacles into flames. The graphics of the game are quite good and winning the levels reasonably achievable.
3. Go Nawaz Go

Created by On Demand Apps,  the game is named 'Go Nawaz Go' – the popular chant of Azaadi March.
The game is similar to the popular game Flappy Bird, with PM Nawaz Sharif flying on a broom and avoiding obstacles, in the shape of PTI flags with faces of Imran Khan and Tahir-ul-Qadri on them.
I found the game a tad difficult to play but then again, I never got the hang of Flappy Bird either. The graphics are okay and the pesky advertisements pop up in between losing the game (I couldn't make the PM pass even a single level).
4. Go Nawaz Go (Running)

This game, by Blue Horn Technologies, reminds me of the childhood game Mario. It has Mr. Prime Minister running and jumping along broken roads (strong resemblance to Karachi roads) while collecting dollar signed coins. It has 18 levels and the graphics are simply amazing.
It is a fun and easy game to play, with only advertisements at the bottom and not popping up every few minutes. You need to tap and double tap to jump and avoid getting the PM to fall down.
5. Kursi Wars

Developed by Ludei, the game is an imitation of the traditional Musical Chair game. You get to select your leader, Imran Khan or Nawaz Sharif. Then, you hear music and see them running around the chair.
You have to tap the chair to make your leader sit as soon as the music stops or you lose. The game is boring, has poor graphics and very annoying pop up ads, which you can't even skip or close till you see the whole thing. Give it a miss!
As the situation remains tense around the country, these Azadi March games add a little fun to it while allowing players to vent out their frustrations.
Here is to hoping the actual political games will end soon and we get to see a better Pakistan!