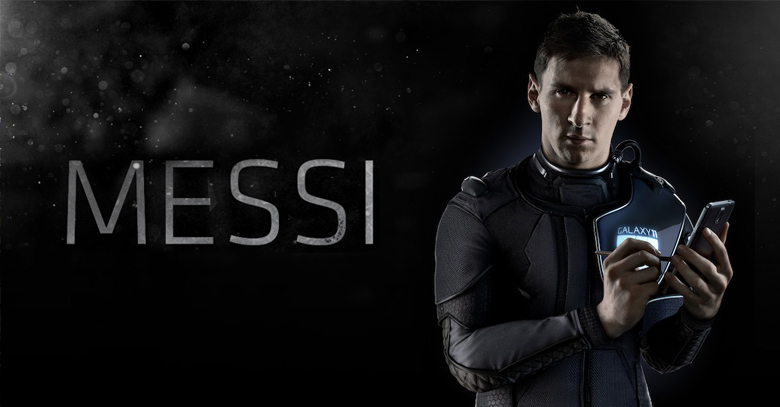 By Ufaq Ashfaque
Samsung has chosen Lionel Messi, as their captain, to promote the new Samsung Galaxy 11. Their new ad campaign follows the long teaser campaign #WinnerTakesEarth, during which cryptic messages and symbols were being placed during football matches in Brazil, England,US, Italy and so on.
As part of Samsung's promotional campaign, created by Ad agencies R/GA in San Francisco and Cheil Worldwide in Korea, they released Messi's pictures, in a space suit, on various social media and also placed a 60-second YouTube video showing the footballer dodging, dribbling the ball amidst mysterious followers.
The Argentinean footballer can be seen flying in a spacesuit, juggling, jamming and jogging around his signature moves as extraterrestrials chase the footballer.  He is then offered to lead the world against the space creatures.
Samsung has also announced that around 10 other stars will join Messi in this quest and their names will be announced shortly over the microsite and social media.
In the next few weeks, the ad campaign will surely go viral over different social media platforms such as Facebook, Twitter, social media pages and micro sites owned by Samsung.
With a global reputation and name on the soccer field, Messi acting as brand ambassador, is sure to promote Samsung and the footballer himself. Messi's association with Samsung will strengthen with the launch of the new Samsung 11.
Samsung has been the pioneering partner of some of the world's largest soccer clubs.  The infamous Real Madrid, Chelsea and Bayern Munich F.C. are amongst the most popular soccer clubs that are recognized worldwide and are associated with Samsung Galaxy.