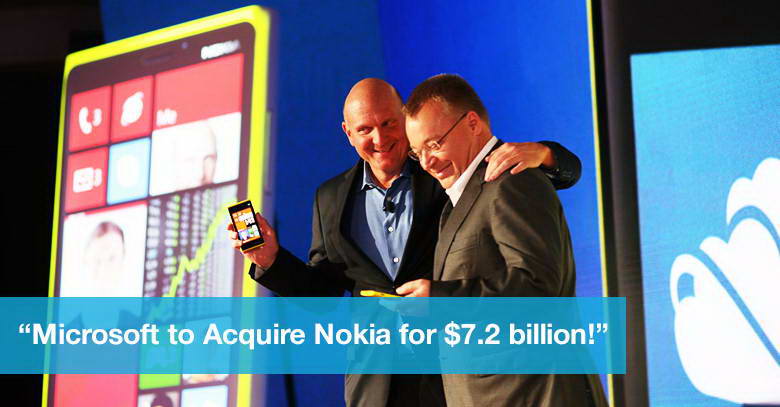 By Hassan Wasti
Microsoft struck a $7.2 billion deal with Nokia and is now officially heading the mobile phone business of the company. Nokia has been one of the biggest maker of mobile phones but in the recent years it has struggled to maintain its market share.
The deal includes 3.79 billion Euros for the devices unit and 1.65 billion Euros for patents, the companies said in a statement today.
The Chief Executive of Nokia Stephen Elop will step aside and move to Microsoft to head the expanded Devices unit of Nokia and Microsoft combined.
As demand, for Nokia's mobile devices, grew weak the company faced cash-flow problems. It lost major share of its market to Apple and Samsung and hence, reached the decision to sell the division to Microsoft.
"It's a bold step into the future – a win-win for employees, shareholders and consumers of both companies," Microsoft's outgoing CEO, Steve Ballmer, said in a statement.
"Bringing these great teams together will accelerate Microsoft's share and profits in phones, and strengthen the overall opportunities for both Microsoft and our partners across our entire family of devices and services" He added.
As part of the deal, Microsoft will take over 'Nokia's Devices & Services business, which includes their smartphone and mobile phone businesses, their award-winning design team, manufacturing and assembly facilities around the world, and teams devoted to operations, sales, marketing and support', an email sent by Balmer to his employees stated.
Nokia's mobile phones business unit serves hundreds of millions of customers worldwide and had sales of 53.7 million units in the second quarter of 2013.
The deal will go live in the second quarter of 2014 after gaining approval from Nokia's shareholders.