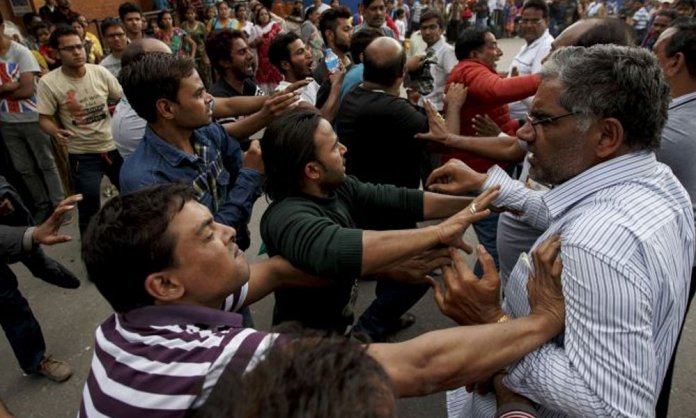 A popular Pakistani academic and columnist who serves as the General Manager of Strategy and a weekly columnist for Daily Jang, Ali Moeen Nawazish took to his social media page to share a disturbing video that's spreading like wildfire.
In the video Airport Security Force officers can be seen getting into a physical fight with civilians.
Unfortunately, there is also some spitting and chair-throwing happening in the video.
Take a look at the video below:
Nawazish rose to popularity in 2009 for securing 22 A grades, 1B and 1C A-Levels, a world record at that time. He later went on to obtain his Bachelor's degree in Politics and International Relations from Trinity Hall, Cambridge, and then completed a master's degree in journalism from the Columbia University Graduate School of Journalism.
He strongly condemns the actions of the authorities and demands strict action.
No matter who was responsible for starting it, but the chair throwing from the top and spitting down on passengers by ASF was unacceptable! Strict action should be taken against the officer!
Take a look at social media's reaction to the video:
As we know u r "DHOBI KA KUTA, NA GHAR KA NA GHAAT KA" so u can continue to bark anytime without to now the reality of this clip.
So i would like to inform all guys that these are airport security Force (ASF) who misbehaved with civilian so plz do not connect this with PK ARMY.

— hamid (@hamid96973259) October 23, 2019
All of you morons who are attacking the army should know that this is NOT army here.
This is airport security force…..just like FC or Rangers…..
It's possible that one ASF person has made a mistake but you are a bigger moron to attack entire Pakistan army without fact check.

— Zaid Hamid (@ZaidZamanHamid) October 23, 2019
ASF .airport security force should be tolerant as most of the time protest of passengers is possible. Treating them this way is not appropriate. Even in arresting such activity like punch , chair etc is not execercised.

— عام پاکستانی مسلمان (@commonmuslim2) October 23, 2019
The unprofessional attitude of the Airport Security Force (obvious in the video) is telling all the sad stories of our state machinery😪

— Khalid Ahmad (@khalidahmadmasu) October 23, 2019
What are your thoughts on this behaviour? Let us know in the comments.
Stay tuned to Brandsynario for more news and updates.