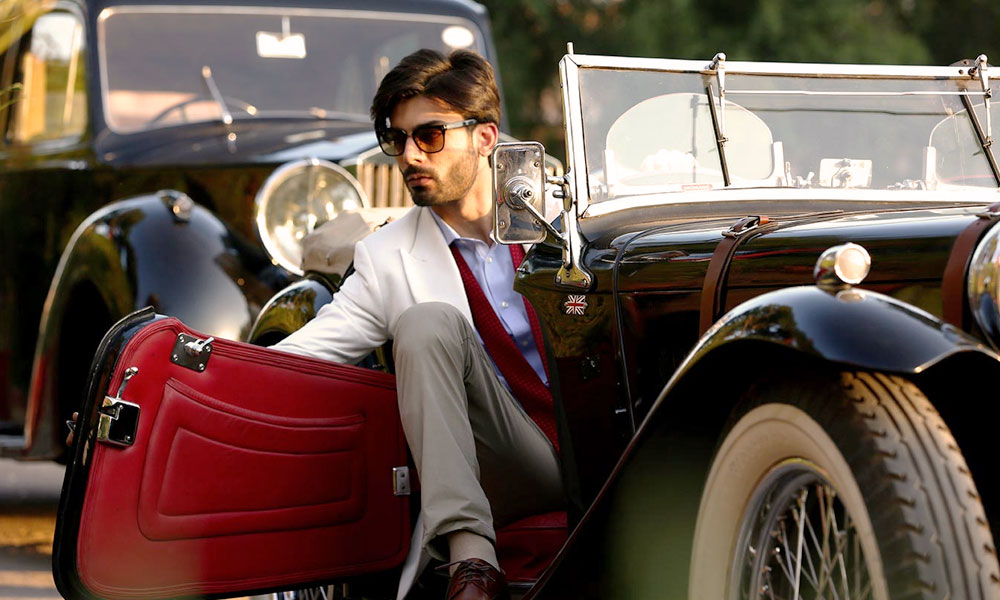 From the street corner barber's chair to the high-end salon's styling recliner – the trend of men opting for grooming services which include more than just a haircut has seen a dramatic increase in the past couple of years.
Not only are there simply more style-conscious men around but the rising trend of couples' treatments have also given a boost to the male grooming industry, thereby raising the need for better, trained male salons.
Read More: Top Beauty Salons for Bridal Make-Up in Karachi
No matter how debatable the transition of the old, scruffy alpha-male to the newer, groomed metro male remains, there is no harm in men grooming themselves as long as they don't end up wearing our blush to the evening parties.
Take a look at Brandsynario's pick of Top 10 Male Salons in Karachi:
Celebrity Stylist Sajid Mehmood
From the hottest styles to the most trending, Sajid Mehmood is the most sought after celebrity hairstylist when it comes to Pakistan's leading male celebrities. Since his first celebrity styling of Junaid Jamshed for the cover of Mag magazine in the late 90's, there has been no looking back
The list is a lengthy one, from film stars to cricketers to musicians; he is a magician when it comes to hair fashioning, managing to give a unique and cutting-edge look to his clients. His celebrity clientele include Shaan, Shahid Afridi, Fahad Mustafa, Atif Aslam , Waseem Akram, Mohib Mirza, Ali Zafar, Fawad Khan, Humayun Saeed and the list keeps growing !
 BEYOND BLISS
Location: F-46/A, Park Lane, Street No. 4, Block 5, Clifton. Karachi.
Rated as one of the best spa centers in Pakistan, Beyond Bliss is an upscale salon and spa for both men and women.
[fb_embed_post href="https://www.facebook.com/BeyondBlissOfficial/photos/a.620314731331722.1073741829.207500055946527/1107877332575457/?type=1&theater"/]
The spa has a very relaxing ambience with a very exotic feel, offering some of the best spa treatments including Salt Glows (native Korean treatments), Skin Perfecting Facials, Dermalogica Facials, Caviar & Retinol Eye Treatment, Glycolic Peels, Aromatherapy, Reflexology, Thermo-Stone Massage and Hydrotherapies including Vichy Showers.
 CLIPPERS FOR MEN
Location: 22-C, Hockey Stadium Lane 1, Khadda Market, Phase 5, D.H.A., Karachi.
The choice of some celebrity actors, Clippers is yet another well-rated salon in Karachi.
[fb_embed_post href="https://www.facebook.com/ClippersMenAndWomen/photos/a.130344633760687.22297.130321383763012/379282775533537/?type=1&permPage=1″/]
While the salon only boasts of excellent haircut for men, the affordable rates and the classy environment still make it the go-to haircut place for many. Not only grown men but kids like going to the salon too for some of the trendier, wacky haircuts.
What's more, celebrities like Javed Miandad and Humayun Saeed have been spotted getting haircuts there too!
 ESSENSUALS HAIRDRESSING
Location: Shop 301,3rd Floor, The Ocean Shopping Mall, G3-Khayaban-e-Iqbal, Block 9, Scheme 5, Clifton, Karachi.
A division of international salon franchise and hair care brand Toni & Guy, Essentuals is one of the higher end salons in Karachi targeted to the demands of the younger generation.
[fb_embed_post href="https://www.facebook.com/EssenHairdressingPakistan/photos/a.934313039941137.1073741832.170432729662509/999070803465360/?type=1&permPage=1″/]
Opened in collaboration with Ponds Pakistan, the salon not only offers top of the line, classy haircut for men, but also offers other services including express facials, hair treatments manicure, pedicures and basic makeup. The salon currently has some amazing Eid offers for those looking for a cut this upcoming holiday weekend.
GILLAN SALON & SPA   
Location: 10-C, Nishat Lane 1, Off Khayaban-e-Muhafiz, Phase 6, D.H.A. Karachi. Branch 2: Shapes (Located Inside), 139-Mcneil Road, Cantt, Karachi.
Sporting a very warm and earthy ambiance, Gillan Salon & Spa, is yet another choice of many celebrities including Faysal Qureshi, Noor Hassan, Saud, Azfar Rehman, and Ali Saleem.
[fb_embed_post href="https://www.facebook.com/gillanspa/photos/a.421404287894172.95833.134376039930333/942679205766675/?type=1&permPage=1″/]
Using only top of the line luxury brands like CHI, Schwarzkopf, Toni & Guy, Dikson, OPI, Guinot and Dermalogica, Gillan Salon & Spa is a one-stop grooming solution for all men. From haircuts and treatments to specialized facials, the spa is the ultimate luxurious setting for a refreshing experience. Some of their popular treatments include those by CHI and their signature Vitamin C facial.
 N-GENTS
Location: F-50, E Street, Block 4 Clifton, Karachi.
Coined as the modern day barbershop, N-Gents is a sister (brother?) brand of N-Pro, run by stylist Nabila's son, Zair Maqsood.
[fb_embed_post href="https://www.facebook.com/NGentlemen/photos/a.452977934778988.1073741828.452328478177267/937747422968701/?type=1&permPage=1″/]
The salon represents everything luxurious while still being a "man's place". From the entire salon set-up to the ambiance, in general, it is simply an upscale westernized barber shop.
While the salon's aesthetics appeal many rushed men to go for a refreshing, relaxing experience, reviews suggest that the services are just okay, none par with the other cutting-edge salons of Pakistan.
 POND'S SKIN CENTER
Location: Dolmen City Mall, Shop No. F-55, First Floor, Block 4, Clifton, Karachi.
A collaboration between internationally renowned Toni & Guy and Ponds Pakistan, Ponds Skin Center is Pakistan's only state of the art skin care center to date and South Asia's first-ever beauty center of its kind.
[fb_embed_post href="https://www.facebook.com/pondspakistan/photos/a.511021428952706.1073741826.249955425059309/511022088952640/?type=1&permPage=1″/]
Run by Saeeda Mandviwalla, Ponds Skin Center boasts of its top of the line skincare treatments, lavish haircuts and distinguished nail services. Added to these professional top of the line services is the expert tailored advice by Saeeda Mandviwalla herself for those suffering from skincare issues.
Read more: Pakistan's Top Male Models: Exclusive List Revealed
TARIQ AMIN
Location: Avari Towers Hotel, Fatima Jinnah Road, Karachi.
The brand of Pakistan's pioneer hairstylist, Tariq Amin, the style guru, the salon is one of the oldest yet still the best out of all the newer ones to date.
[fb_embed_post href=" https://www.facebook.com/tariqaminsalon/photos/a.879717262078842.1073741842.223901397660435/879720078745227/?type=1&permPage=1″/]
[fb_embed_post href="https://www.facebook.com/tariqaminsalon/photos/a.224327064284535.71282.223901397660435/224327297617845/?type=1&permPage=1″/]
The choice of many celebrities, the salon hosts some of the top stylists of Pakistan, including the glamorous Tariq Amin himself, making it the go-to place for cutting-edge, versatile haircuts.
THE GENTLEMEN'S LOUNGE
Location: 5 C, 3rd Zamzama Commercial Lane, Phase 5. D.H.A., Karachi.
One of the more affordable salons for men, The Gentlemen's Lounge offers a number of grooming services including basic haircuts, hair spa treatments shave, massages and a range of facials.
[fb_embed_post href="https://www.facebook.com/Tglpakistan/photos/a.636574543045386.1073741831.422997147736461/891790984190406/?type=1&permPage=1″/]
THE MEN'S SALON BY PENG
Location: 27-C, 27th Street, Tauheed Commercial Area, Phase 5, Extn, D.H.A., Karachi.
The men's branch of Peng's Hair and Beauty Clinic, this salon is yet another celebrity choice for many actors.
[fb_embed_post href="https://www.facebook.com/pengsalon/photos/a.422107857822442.98529.287039121329317/962009420498947/?type=1&permPage=1″/]
The salon offers a range of services including hair styling, cuts and treatments using branded products like Label M. and Toni & Guy along with other unconventional ones including manicure, pedicures and facials.
 TONI & GUY
Location: C-14 Block 2, Clifton, Karachi.
The "SuperBrand" Toni & Guy's flagship salon in Karachi, the world's largest Toni & Guy salon, sports a very contemporary, sleek environment, offering a range of grooming services for men.
[fb_embed_post href=" https://www.facebook.com/ToniandGuyPakistan/photos/a.10152585844240653.1073741846.353252000652/10153007087185653/?type=1&permPage=1″/]
A pioneer in the hair industry globally, Toni & Guy is now known for their eccentric haircuts locally too. Apart from the fabulous hair treatments and cuts, the salon also offers facial and body treatments, hand and foot treatments and bridegroom services.
If you're a guy and reading this article, you need to treat yourself out by visiting any of these salons.
Want to learn more? Read Fawad Khan Reveals His 'Beauty Secrets' for Fair & Lovely
*The salons are listed alphabetically and not in order of their rating.