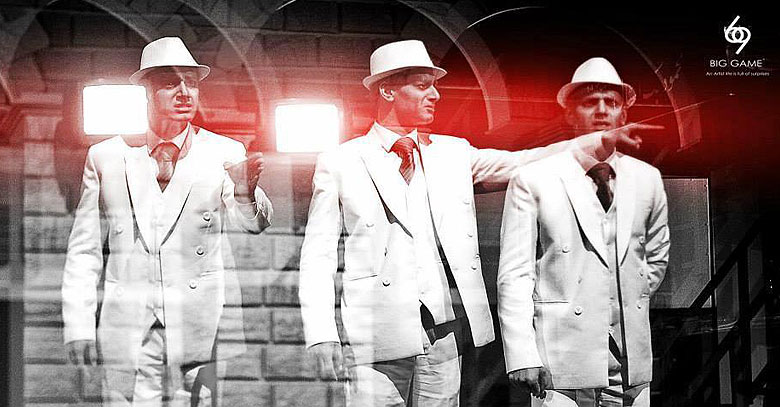 With every passing year theatre in Pakistan is achieving more and more admiration. The first two theatre productions by KopyKats, Paunay 14 August and Aangan Terha, really set the bar high and the audience was eager to see if they would be able to create similar magic again or not.
The flawless direction, script and acting, in the previous plays, itself was a challenge for the production team since the audience now expected better or at least same amount of charismatic stage performance.
Sawa 14 August is the third theatre play penned by the legendary-fabled writer Anwar Maqsood and he yet again proved himself as a legendary writer that he is.
While watching Anwar Maqsood's plays, it sometimes becomes quite hard for the audience to decide their reaction.  He manages to pack humour and bitter truth so closely together that audience cannot decide whether to laugh or cry.
Directed by Dawar Mehmood, same person who directed Paunay 14 August and Aangan Terha,the play began with entrance of a coolie, played by Bilal Yousufzai and a sweeper, played by Ishtiaq Rasool, playing cards on the railway platform and conversing about the political matters of the country in a comical way.
Zulfikar Ali Bhutto, played by actor Wassam Waheed, and General Zia-ul-Haq, played by Gohar Rasheed, entered on the stage. It hardly took a few seconds for them to indulge in a brawl which was remarkably attention grabbing. The entire action between the two was performed to precision. The dialogue delivery, the body language and everything was perfection at its peak. The way Gen Zia laughed actually gave goose bumps to the audience.
One of the most gripping moments throughout the play was when Mohammad Ali Jinnah, played by Zahid Ahmed, came in. Jinnah in his dictating sophisticated style, reminds the two (Bhutto and Zia) about what he had dreamt for Pakistan and how they both succeeded in shattering his dreams for his beloved country.
Jinnah holds the looking-glass in front of them both but instead of accepting their faults they are busy accusing one another of their slip-ups.
Audience in the Arts Council went nuts when Yasir Hussain, playing the character of a Sindhi-PPP supporter entered the play. This man was extremely proud with the number of marriages he had had and had no clue whatsoever about why he supported PPP, one of his most amusing dialogues were ' … Zardari Hass Raha hai..' . At this particular moment the stage was crammed with hilarity and craziness of a Pakistani political scenario.
The entire cast and crew of Sawa 14 August really put in an enormous amount of hard work to achieve all the applause from each and every person present in the auditorium. The characters of Jinnah, Bhutto, Gen Zia and the Sindhi PPP supporter were the main highlights of the play.
The cast of this play included a few actors who were also a part of Pawnay 14 August. The flawless direction, done by Dawer Mehmood, is something worth mentioning in golden words while it won't be wrong to say that Kopykats Production and Anwar Maqsood nailed it this time with hitting the right chord, from acting, to lighting to music.
Considering the three previous plays, by this team, it wouldn't be wrong to say that Sawa 14 august was the most delicate of all, in terms of the issues portrayed on stage.
Tickets are available at Butler's Chocolate Café in Zamzama and Karachi Arts Council for Rs1500. KopyKats Production team also announced, on their Facebook page, that the play will reach theatres of Lahore and Islamabad this October.