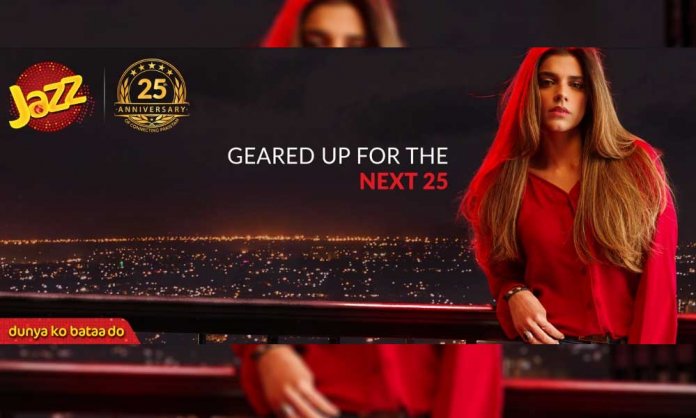 Pakistan is currently experiencing a digital revolution. The advent of mobile internet was perhaps majorly responsible for bringing about a change in the lives of many, by creating new job opportunities and increasing access to information.
All of this is of course not possible without a digital ecosystem.
Jazz- A Leader in the Telecom and Digital Sector of Pakistan:
Jazz has always been the largest mobile communication provider in Pakistan with every third mobile user in the country being a Jazz user.  .
Through their cutting-edge, integrated communications solutions and a customer-obsessed approach, Jazz has successfully been leading the telecom and digital market in Pakistan for 25 years now.
Jazz's technical superiority is evident given the company has the largest data user base at over 36.5 million, most of whom are using the best-in-class Super 4G technology that has been awarded as the fastest 4G in Pakistan three times in a row by Ookla.
Needless to say, a small percentage of the population can afford computers; for the rest of the population, mobile internet is a savior!
From using Google for information to using social media for staying in touch with loved ones and communicating with colleagues, this telecom giant has made this shift to digital possible in Pakistan.
Unmatched From 1994-2019:
The pioneer in launching GSM communication technology in Pakistan, Jazz first stepped into Pakistan in 1994. The network, since its inception is running on the vision to support the growth of the digital economy of Pakistan.
It initially faced competition but today the brand remains unmatched in its conviction to serve its customers with the best. In return, it has earned great levels of customer loyalty.
The contributions made by the brand towards creating a digital infrastructure cannot go unnoticed. In the last quarter of a century, two generations have witnessed the revolution.
Celebrating 25 Successful Years of Serving Pakistan Digitally:
"Jazz was launched with a promise of connecting Pakistan and 25 years on, we empower 60 million Pakistanis through the country's largest voice and data network, high-speed mobile internet, innovative VAS offerings and financial services," said Aamir Ibrahim, CEO Jazz. "Our journey has been about focusing on access even in the remotest regions, a customer-centric approach and a commitment to affordable digital tools for all."
As Jazz celebrates its past achievements & present accomplishments, its eyes are still set on an even more promising future as per its pledge to take Pakistan into an era of digital advancement & innovation, where every Pakistani can achieve their dreams and tell the world of their true potential without any limitations.
This is the central thought behind Jazz's 25 year campaign that commemorates the fact that the telco has always been ahead of its game, however the best is yet to come as it has just gotten started- Abhi tou sirf shuru'at hai aglay 25 bhi sath hain!
Playing on the theme of nostalgia to celebrate the completion of its 25 years in supporting a digital economy in Pakistan, Jazz is inviting its customers to share their favorite Jazz memory.
The best story will win a giveaway from Jazz.
Jazz has also called participants to share their vision of a futuristic Pakistan. This only shows how customer-centric Jazz's approach is, and how they like to keep their customers involved in every step of their journey to improve Pakistan.
A beautiful TVC has also been shot in four exquisite locations across Pakistan. The film showcases in a very artistic manner how Jazz has been defying the norms and changing the digital landscape of the country for years and is geared to take on the future with the millennial youth right by its side.
In celebration, Jazz is also launching a new revamped website alongside offering its valuable customers a generous 25% off on the Weekly Mega Super Duper bundle.
We congratulate Jazz for their milestone and hope that they carry on with their brilliant efforts.
What are you waiting for? Take part in Jazz's Instagram campaign now! Stay tuned to Brandsynario for more news and updates.