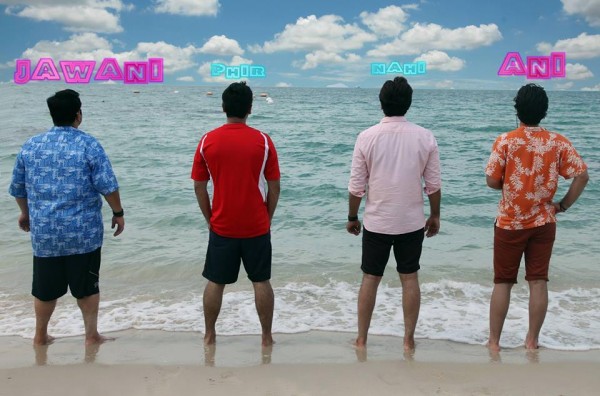 The round of pumped-up tracks of Jawani Phir Nahi Ani continues as the movie releases a fresh new upbeat number "Dance The Party", with the male cast of Humayun Saeed, Hamza Ali Abbasi, Vasay Chaudry and Ahmed Ali Butt shown chilling on the beaches of Pattaya, Thailand.
The duo of Ali Gul Pir and Shuja Haider have taken their places behind the mic for this song. Watch the complete song Dance The Party here.
[fb_embed_post href="https://www.facebook.com/jpnathefilm/videos/1487395704893983//" width="550″/]
The video unveils the boys of the movie busy with their late night shenanigans in the Thai capital, jet skiing in Pattaya and of course, dancing on the beach with ladies wearing skimpy clothes.
Previously, Jawani Phir Nahi Ani released an upbeat shaadi track "Fair & Lovely Ka Jalwa" along with a groovy number "Khul Jaye Botal". However, its newly released "Dance the Party" might invite some grave controversies for the rom-com. Perhaps, it is one of songs that Hamza Ali Abbasi mentioned in his status, claiming that he regretted being a part of the indecent visuals.
Read here: 11 Times Hamza Ali Abbasi Took Over Social Media
What do you think about Jawani Phir Nahi Ani's "Dance the Party" tune? Share your views in the comments below.