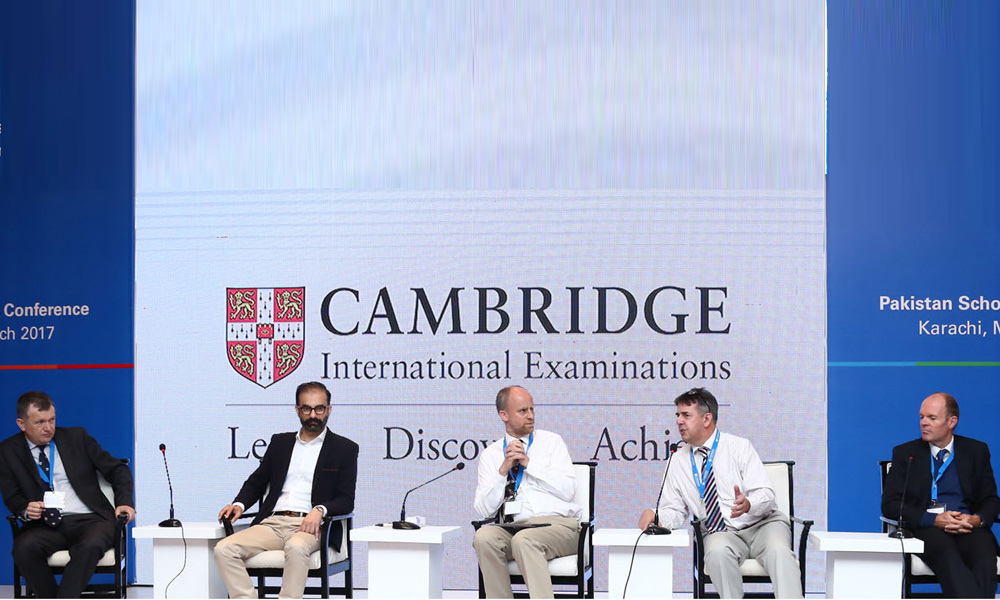 Students who understand how they learn and teachers who understand how they teach are better able to improve their performance, according to experts at the Pakistan Schools Conference, hosted by Cambridge International Examinations in Karachi today.
Focused on 'Reflective learning', the conference was attended by over 220 principals and heads from over 150 Cambridge Associate schools in Pakistan.
During the conference, principals discussed how to encourage reflective practice among both students and teachers, including techniques for managing and evaluating reflective learning and how to encourage an open and honest school culture where mistakes are viewed as opportunities to learn. 
Speakers included Mark Winterbottom, Senior Lecturer, Faculty of Education, University of Cambridge, Dr Charles Wall, Principal, Karachi Grammar School, Michael O'Sullivan, Chief Executive, Cambridge International Examinations and Christopher Hunt, Director – Sindh & Balochistan, British Council Pakistan. A panel discussion also explored ideas for encouraging honesty when reflecting on teaching and learning.


Michael O'Sullivan, Chief Executive, Cambridge International Examinations, said: "The power of reflection in education is brought home to me every time I meet Cambridge learners who show awareness and understanding of their own learning processes. Such students are evidently more consistently motivated to learn, and more capable of learning. At the conference, we worked together to share our experiences and ideas on how to encourage reflective learning in schools."
Shahid Ashraf, Senior Manager – Sindh & Balochistan, Pakistan, Cambridge International Examinations, said: "Taking time to reflect is so important because it helps us understand what is working well, and what we need to do to improve. There was plenty of opportunity for reflection and debate at the conference, and it was great to see so much knowledge sharing between schools."
One of the conference participants said: "The Pakistan Schools Conference is an excellent learning opportunity for all of us. We not only learn immensely from the keynote speakers, but from our colleagues too and take back home many points to reflect upon afterwards. Cambridge is striving to be an education system which does not prize test scores as the ultimate goal, but wants its teachers and learners to have a strong virtue of reflection as well."
Over 590 schools offer Cambridge programmes and qualifications in Pakistan, including Cambridge O Level and Cambridge International AS & A Level.