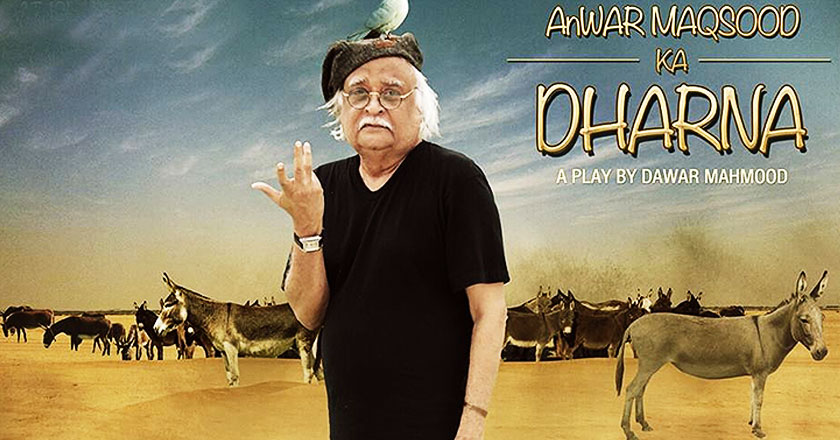 KopyKats Productions has just made a comeback to Karachi with its determination to help repopulate the city theatres. 
After escaping from the politically led recent sit-ins that stormed the national capital, Anwar Maqsood and his talented team of artists have landed to set a new meaning to the usual city protests. The name Anwar Maqsood's Dharna might lead you to thinking of flash mobs, burning fuel stations and tires and the worst sort of destructions that one would have previously witnessed in their surroundings, but which has so not been depicted over here.
The very first show was dedicated for Latif Kapadia Memorial Welfare Trust (LKMWT), with all the proceeds from the show being generously donated to the trust.
The plot starts with a religious party leader behind the makeup room with a female assistant attending him during which his beard accidentally drops off and his fake one is treated, as a shave was to be done before the Maulana sahib could apply for his Amreekan VISA.
A live talk show with other party members and leaders is just about to commence and the host is getting done with his off camera arrangements. Before the show goes live, the host is repeatedly checked for temper by his colleagues. The play takes some flight as completely absurd introductions of a military person is made, reflecting Anwar Maqsood's usual taste of decent humor.
The show teases A PML-N federal minister on the reception that is given to him after the program is initiated by playing PTI campaign songs. It is soon discovered how the person playing the background music is a PTI enthusiast and there is little a Federal Minister could do after looking at this gigantic 'kid'. This is where he smartly chooses to turn overly polite and gets a safe exit.
Then comes a PPP member and who is now acting as a dance instructor to fellow party workers, simultaneously admits her obsession with Bilawal Bhutto. Some mockery is made at the class of women that comes to attend PPP rallies but Surmai gets complimented for being the better average at some point.
Suzanne joins in, as an analyst who's been abroad for most of her life and still holds a Canadian Nationality, is indirectly targeting some minor haves of Pakistan who still admit that this is the country where their heart belongs.
Followed by these two attractive girls enters our much waited Maulana sahib who decides not to sit next to a male Noon League Minister, instead chooses to sit between two 'Na Mehrams', is seen as a dualistic person who never seems to miss an opportunity. This character has been my favourite with the colorful minded person he has been played as, as he takes every chance and risk he can to hit on women. To me he is not just a JUI leader, but the closest description of how most dualistic most men are.
The MQM member joins and speaks in his perfectly crafted, high literature reflecting Urdu as it has been seen in other MQM people. I was enjoying the moment on the occasion where a former party worker was left completely disowned and a fresh blood worker was constantly being regarded by him.
As soon as a phone call from MQM's Leader is taken, is the moment everyone starts taking the show even more seriously. The host is terrified and careful before and after every word that he speaks. After some enquiry, the audience bursts in laughter as the caller introduces himself as a mimic from Okara and not being the real 'Bhai', and offers to pretend as Sheikh Rasheed as well. I could see everyone in the hall with their teeth out on this.
Bilawal's video call was another point of immense weight to all viewers, and no one could wink an eye to miss his sight, as if it was only him for whom they had gotten their tickets. His short speeches were kept interesting, simple and laughable of course. This is going to be the point where you in a cinema would laugh your lungs out, after seeing how he's dressed, and even through the simplest of things he says.
The PMLN minister apparently retires himself in a toilet. The funny part is where he calls in the live show to inform the host about no tap water from inside the toilet. After his request he recalls as it is some soft drink that has been delivered instead of Water.
After constant arrival delays, Imran Khan finally makes his appearance in the show,  The ratings go sky high and the host along with other show invitees gets more excited. Some positions are rotated and Imran manages to take JUI person's place instead, leaving Maulana sahib feeling unaccomplished and unsuccessful. The ladies also cherish his company and it is the part where Imran's charm completely takes over. An update from Mazar-e-Quaid is also received from Mr Maqsood's end, where out of the people in the sit-ins,Quaid-e-Azam, him and, his wife, Mrs.Maqsood has also left the protest, leaving just him and Quaid.
After Imran's arrival, usual tabdeeli and azadi march songs and slogans are played and are commended by PTI enthusiasts from throughout the hall.  I also remember the JUI person being highly tech savy as it is him who refers to most social apps and teenage jargons while trying on female guests of the show. The end makes it look as if the play is pro Noon League, though I'll leave it to your imaginations.
But I would tell you that it kind of raises the social and moral turpitude aspect of the society and media's evil, be it hidden or exposed, along with our over rated national leaders and people who are obsessed with them.
After Ponay Chawda August, this was my second play from the needless of introduction or praises Mr.Anwar Maqsood has yet been an amazing experience, after which I have promised to visit our theatres more often. But at the same time I would highly recommend that if a new play is to be developed by this team, Ponay Chawda August is the prime example of what my definition of high quality theatrical experience would be like.