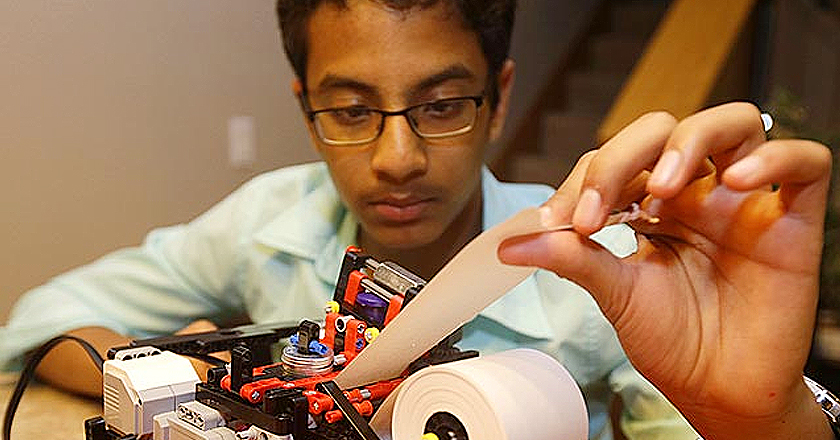 Shubham Banerjee, a 13 year old American-Indian kid impressed the techno-sphere, with his school fair project, a low cost Braille printer, last year.
He created the printer with Lego's robotic Mindstorms EV3 kit and aptly named it Braigo, combining the words Braille and Lego.
His creation won him many awards and was appraised by the blind community when he decided to start Braigo Labs. Initially, his father invested USD 35,000 in his venture to help him get started.
The Californian 8th grader was shocked at the current prices of an average 9 pound Braille printer, USD 2000, and wanted to create a more affordable and practical version of the printer to help those in need.
"I just thought that price should not be there. I know that there is a simpler way to do this. My end goal would probably be having most of the blind people … using my Braille printer," said Shubham.
Taking his dream a step forward, 13 year old Shubham started working on a more sophisticated version of his science fair project. He used a desktop printer, combining it with a recently released Intel computer chip, to create a new, advanced version of the Lego printer, Braigo 2.0.
His efforts were noticed by the tech giant, Intel Corp., who then decided to invest in Braigo Labs, making him the youngest entrepreneur to have received venture capital. While praising the young genius, Intel Inventor Platforms director, Edward Ross, was quoted saying, "He's solving a real problem, and he wants to go off and disrupt an existing industry. And that's really what it's all about."
If all goes well and Shubham is really able to create a printer that costs as low as USD 350, with the help of professionals hired using the Intel capital, the blind community would have an amazing resource at hand.
The new printer would mean that blind people could convert electronic text to Braille and print it, using raised dots, automatically.
The affordability of Braigo would help these people make their day-to-day work easier with being able to print and read almost anything.
San Francisco Lighthouse for the Blind's community service director, Lisamaria Martinez, is grateful to Shubham for thinking about visually impaired people like her.
"An affordable printer would allow the visually impaired readers to print out letters, household labels, shopping lists and short reading materials on paper in Braille", she said.
His parents are equally proud and supported him as soon as they realized he was onto something big. His mother, Malini Banerjee, currently serving as the CEO of Braigo Labs, appraises him in the following words, "I'm really proud of Shubham. What he has thought, I think most adults should have thought about it. And coming out of my 13-year-old, I do feel very proud."
Shubham's father, Niloy Banerjee expects that the prototype of Braigo would be ready by summer for testing by blind organizations and at shelves by the end of the year.