[Update]: As more and more people get to know about Whatsapp's New policy, the rage against it builds a bit more. The angered and troubled users are going to Twitter to express their concern for their privacy. Hence, you will find that the hashtag for the new WhatsApp policy (#WhatsappNewPolicy) is trending on Twitter, with the people stating that they'd rather dump Whatsapp and install Telegram instead of accepting the policy.
Rip WhatsApp …. 🤷 #WhatsappNewPolicy#Telegram #WhatsappPrivacy pic.twitter.com/IK0AMTIwo2

— Maرia khaن🐣 (@oye_hoyeMK) January 8, 2021
And as you know, Twitterati is forever ready to rain down memes on any issue, so they were prepared for this as well.
1Whatsapp after new privacy 'abhi maza aye ga na beruu'😂
2 whatsapp after seeing people switching to telegram 😂😂#WhatsappNewPolicy pic.twitter.com/2QOGfkDz0K

— WITCHER😈 (@tweetsby_ak) January 8, 2021
My dumbass already accepted the policy without even reading it#WhatsappNewPolicy pic.twitter.com/AFXrlE2ye7

— Momna Tahir (@momna_tahir) January 8, 2021
Time to switch back to privacy days #WhatsApp #WhatsappNewPolicy pic.twitter.com/5crdhBWlQH

— Pranav Pankhawala (@PPankhawala) January 8, 2021
#Telegram #WhatsappNewPolicy
*After the new update of WhatsApp policy*

Me to WhatsApp: pic.twitter.com/cz8FC143o2

— Shilajit Dasgupta (@ShilajitDasgup6) January 8, 2021
Whatsapp users after seeing #WhatsappNewPolicy 😂 pic.twitter.com/m2piQr0oLy

— ربیعہ ریحان (@iamrabbiarehan_) January 8, 2021
Telegram to whatsapp users… 😂#WhatsappNewPolicy#Telegram pic.twitter.com/fTK04vBgSY

— ربیعہ ریحان (@iamrabbiarehan_) January 8, 2021
Now, it is understandable the way people are reacting. They want privacy. They want to go back to the era with Nokia 3310 to get it. And they feel betrayed by their beloved application. But here is the thing, was their privacy really in check ever since they (we) started using smartphones? They needed to be on all those social media accounts where they fed information about themselves into the systems.
So everyone was thinking that our data was safe before this policy announcement? LOL
Even Your fingerprints are updated every time when you unlock the phone and apps.
#WhatsappNewPolicy

— Hans Masroor Badvi (@hansbadvi) January 8, 2021
To be honest, their privacy was already compromised, and deep down, they knew it. This time what is different is that WhatsApp has 'ásked' for it in a way that takes away their false sense of agency over their privacy. And thus, you see the whole of Twitter reacting rather harshly.
---
---
The past few weeks have been really happening at the Facebook Headquarters. The social media conglomerate, which also owns a massive plethora of platforms like Instagram and WhatsApp, and several other tech initiatives, has been working overtime to adapt to the changes that are coming to the devices this year.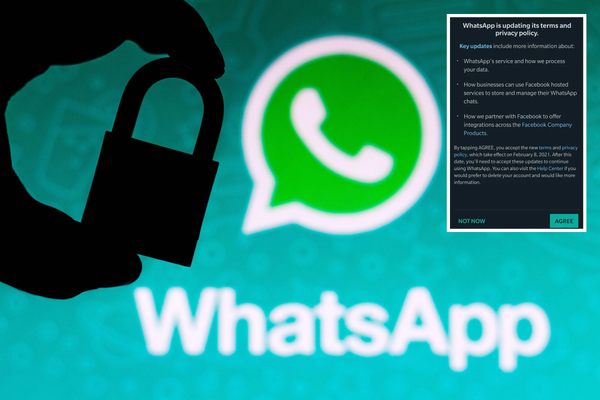 What Is The Ultimatum By WhatsApp About?
Earlier today, WhatsApp has revised its privacy policy that demands a compulsory yes from the user before they could use the app. The app requires the users to accept the terms and conditions, which could apparently track the way you use your app. If you fail to do so, you will be prohibited from using the app from 8th February onwards.
The terms and conditions have been shared with the users via an in-app notification from today onwards, asking all the users to accept them if they wish to continue using the app.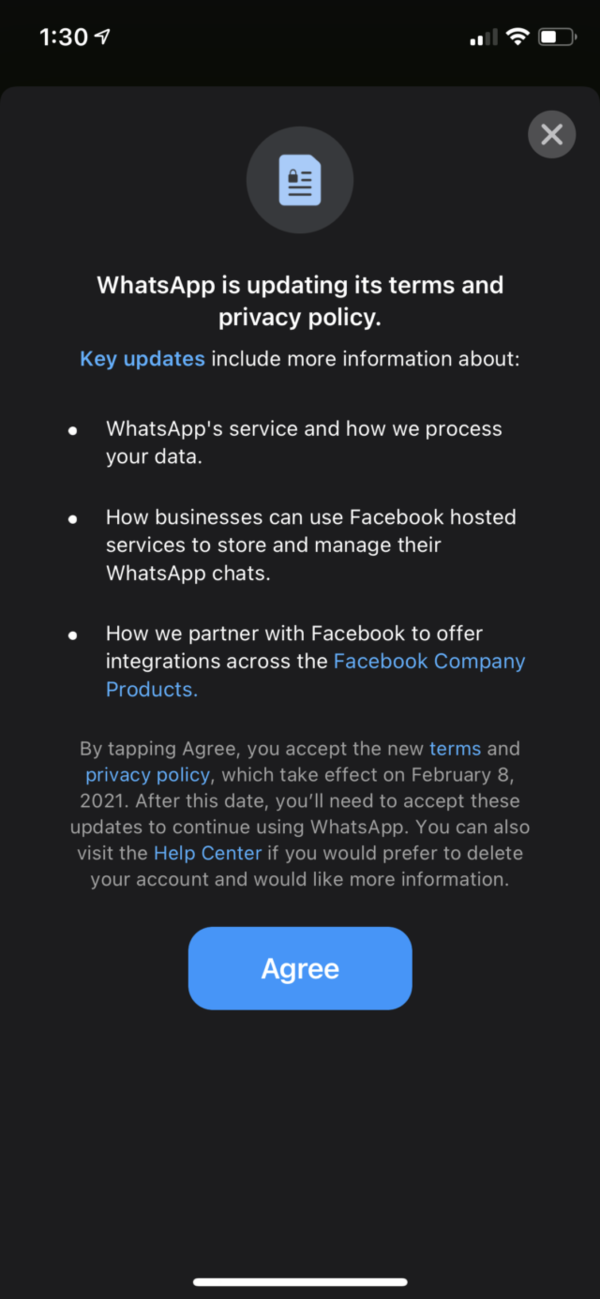 The Facebook-Apple Controversy:
The update comes as no surprise as the recent controversy amongst Facebook and Apple became public a few weeks ago, which prompted a tweet from the CEO of Apple. Tim Cook and a response from Facebook via advertisements in newspapers.
We believe users should have the choice over the data that is being collected about them and how it's used. Facebook can continue to track users across apps and websites as before, App Tracking Transparency in iOS 14 will just require that they ask for your permission first. pic.twitter.com/UnnAONZ61I

— Tim Cook (@tim_cook) December 17, 2020
Apple exposing all the ways Facebook tracks you with it iOS app is really quite something pic.twitter.com/hDhB85qk1L

— Tom Warren (@tomwarren) December 16, 2020
I'm pretty certain #Facebook is fighting #Apple to retain access to personal data. #PID #privacy. #fullpagead #wsj pic.twitter.com/029WwaGSs0

— Dave Stangis (@DaveStangis) December 16, 2020
According to the new IOS update, Apple focuses more on privacy by increasing transparency between app developers and the users by asking the developers to share what data and information they can collect from their users.
As per App Store, WhatsApp can collect the following data of its users currently;
Purchases
Financial information
Location
Contacts
User content
Identifiers
Usage Data and Diagnostics
The Changes And Updates On WhatsApp:
Facebook has been introducing new features and updates on WhatsApp at a very radical pace. In a short while, it has ended support for many smartphones in 2021, introduced video calls via WhatsApp Web, allowed users to set personalized wallpapers for each chat, and intends to introduce many more features in the year 2021.
What do you think about all the changes that have been occurring on WhatsApp? The app has over 2 billion users worldwide and has revolutionized the way we communicate with each other.
Do you think the rift between Apple and Facebook has more to do with privacy, or does it seem like a PR move considering how aware and concern the public has become when it comes to sharing their personal data?
There have been numerous controversies that have led to this moment, as revelations by Edward Snowden and Wikileaks have revealed to the public in the past, which has led to a lot of awareness amongst the users and has tarnished the reputation about how these tech giants work.
Follow Brandsynario for more news and updates