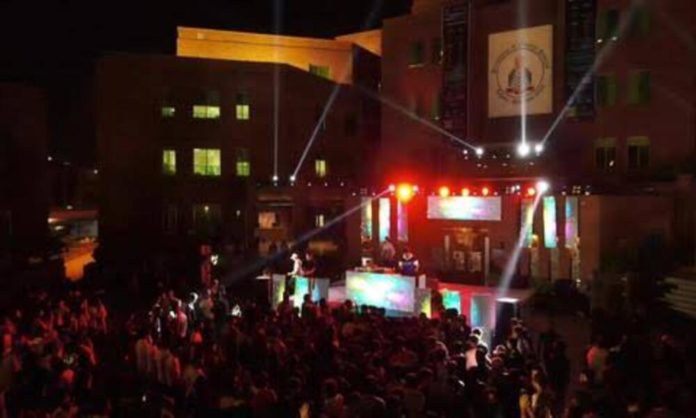 The University of Central Punjab (UCP) in Lahore is facing criticism due to allegations of hosting an explicit dance event on its campus. This situation has prompted numerous netizens to call for legal action against the university and advocate for stringent consequences for the students engaged in lewd and indecent activities.
UCP Under Fire 
As the video from The University of Central Punjab went viral, it immediately gained widespread attention, online commentators urged severe action against the administration responsible for what they deemed a 'shameful act.'
Journalist, Maria Isfahani, posted videos from UCP's dance party on X (formerly Twitter), which sparked outrage among netizens regarding the condition of Pakistan's educational institutions.
Take a look at her post below.
یونیورسٹیز میں میوزک کنسرٹ کے نام پر جو ناچ گانا اور فحاشی چل رہی ہے اخیر ہے کوئی پوچھنے والا نہیں

ابھی کچھ ویڈیوز دیکھی ہیں اپلوڈ نہیں کر سکتی کم از کم گھر والوں کی عزت کا ہی خیال کر لو

یہ ان میں سے کم ترین ہیں 👇👇 pic.twitter.com/xavKSMXAiT

— Maria Isfahani (@MariaIsfahani) November 5, 2023
The Twitter Reacts To The Obscene Party
While the public's reaction towards the videos was originally scrutinized, the Twitter thread of the journalist's post saw varying comments. While some tweets urged the journalist to stop spreading hate and let the students enjoy themselves, others raised questions about the authenticity of the videos. According to some tweets, these videos don't belong to the UCP party since the event at UCP was held indoors.
Read More: Actor Mohib Mirza Hilariously Roasts Karachi's Street Conditions
Meanwhile, other users noted that both the videos posted by the journalist are different and there is no correlation between the two. A few users asked her to stop posting personal stuff on social media.
Here are some tweets from the social media before.
Whatever happens there none of your business.

— Mian Haqq Nawaz Wattoo (@Mianhaqqnawaz) November 6, 2023
فرق اتنا ہے یہ کھل کے کررہے ہیں اور آپ لوگ چھپ کر کررہے ہیں، بس یہ منافق نہیں، اور سیاستدان اور آپ جیسے صحافی منافق تو ضرور ہیں، جس ملک کے سربراہ اور صحافیوں اور عسکری لوگوں کی جائیدادیں اور عیاشیاں باہر ہوتی ہیں وہ پاکستان میں آکر اسلام کا کارڈ کھیل کر اپنے آپ کو پاک صاف بتاتے…

— Muhammad Haque (@MuhammadHaque2) November 5, 2023
Are students not allowed to have fun in life? What is wrong in this? Let them chill out.

— Ankur (@R1Nz20) November 6, 2023
First video kahin or ki lagrhi hai and second video me bhi same ganaa edit kiya hai jab ke back per ganaa koi or Hai. Dusari video Ke manazir pehli video Ke jese Nahi hein.

— Jazib Ali (@jazibali001) November 6, 2023
While the authenticity of the videos is still under question, this isn't the first time UCP went under fire for such activities. However, whether there is any truth to the news or not, strict action against the administration responsible for it will only be able to clear things out.
Read More: Is PCB Considering Shahid Afridi For An Important Role?
Stay tuned to Brandsynario for the latest news and updates.